As temperatures start to cool down it's time to start getting your restaurant or bar's menu ready for fall seasonal hits. Keeping up with seasonal trends is a great way to keep your business from losing your customer's interest. This is the time to offer potential guests a reason to leave the warmth of their home and dine out.
Making a few changes to your menu, specials, and even your interior design will have guests ready to brave the chill to dine out at your restaurant. Here, let's talk about some simple ways to prepare your restaurant for sweater weather.
Why Does Seasonality Matter?


If you're curious how popular fall trends really are, pumpkin-flavored products pulled $511 million in revenue in 2019. While it's typical for most restaurants to see a big surge in sales during the summer, you should expect another surge from around Thanksgiving and through the New Year. This fall season is the perfect time to focus on optimizing your menu and even updating some of your decor and marketing strategies to maximize your potential profit. The more hype you can put behind your business the more you can catch the eye of guests.
When your restaurant or bar business model includes seasonal menu updates, marketing your restaurant and boosting your brand awareness becomes easy and straightforward. Any way to boost guest engagement and therefore boost sales you should be trying it.
Easy Way To Incorporate Fall Trends Into Your Restaurant

The demand from customers for seasonal offerings is obvious. But you might be wondering what are the best ways to manage these updates to keep your restaurant on trend. Let's break some simple yet effective ways down right now.
1. Use Popular Fall Flavors in a Seasonal Menu
Not only is adding a few seasonal ingredients to your menu an easy way to get into the fall feeling, but seasonal menus automatically create a limited-time offering that will help entice guests to visit your restaurant ASAP. Restricting a portion of your menu to fall flavors indicates that these dishes have a shorter lifespan in terms of availability and gives customers a sense of urgency to dine in.
59% of consumers say they're more likely to purchase an item on a restaurant menu if it's described as seasonal.
Restaurants that succeed at seasonality tend to think outside the box when it comes to menu updates. If you're not sure what ingredients are seasonal, a great place to start is by asking your vendors what seasonal ingredients they have available locally.

Typically these are some of the most popular fall flavors:
Pumpkin


Apples


Figs


Brussels sprouts


Cranberries


Sweet potatoes/yams


Mushrooms


Beets


Kale


Collard greens


Parsnips


Pears


Ginger

Don't forget to market your new menu correctly. Update your menu on your website and on any 3rd party delivery services if you use them. Adding images of new items is always a plus.
2. Sip Some Fall Drink Specials Too

While we are on the subject of updating your menu, we can't forget your cocktail menu as well. Creating a fall drink menu to complement your autumnal food options is a must to stay on top of the trends. We suggest you include a mix of alcoholic and non-alcoholic options like:
Your own version of a pumpkin spice latte (pumpkin spice anything is going to be a hit)


Apple sangria


Bourbon-based cocktails (warm or cold)


Apple cider mimosa


Mulled wine


Pecan pie martini (think caramel flavors)


Fall beer (like the always popular Octoberfest flavors)

Make sure to train your server and bartender staff on the ingredients and flavor profile for any season drink or food menu. They should prioritize upselling these menu items.
Popular Fall Beers 2023


For any bar or restaurant owner having a selection of seasonal rotating taps and bottles will keep crowds interested in your selections. For fall there are specific aromas and flavor profiles that consumers tend to seek out:


1. Oktoberfest Beers
You can't even think about fall beers without Oktoberfest. This traditional German-style drink is typically rich in maltiness with a smooth, clean finish. It is designed to be easy to drink so it's perfect for events.
Yes, we know hard ciders are not technically beer, but it's important you offer a few hard ciders during this season because they will sell. Not only will they appeal to non-beer lovers, but they also tend to be gluten-free. We recommend you offer at least a sweet and dry option to appeal to a browser audience.
3. Pumpkin Beer
Once September 1st runs around you can safely consider it pumpkin flavor season. Pumpkin beer has become a huge trend over the past year and most major brewing companies offer something to appeal to the market. They typically have a fall spice flavor profile that makes you feel cozy while you sip.
4. Amber Ale
If you thought Amber Ale was losing traction that's only because it gets its moment in the fall/winter season. An Amber ale is recognized because of its festive reddish/copper coloring. It can sometimes also be referred to as a red ale. Most amber ales have a sweet flavor from the malt and it gets its color and caramel undertones from crystallized sugars.
5. Porters
Darker, heavier beers get their time in the limelight during this season. Porters are top-fermented ales that are made with malted barley. This gives it its dark color and smooth, sweet taste. They tend to be more filling and sweeter than other beers.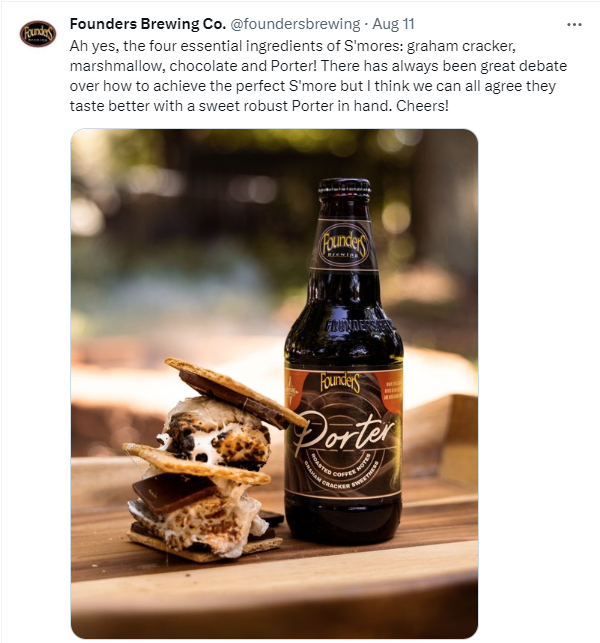 6. Stouts
Unlike porters, stouts tend to have a dark flavor profile and can hold a high ABV. It's made with roasted, unmalted barley which gives the stout its classic ultra-dark color and heavier feel on the tongue.
7. IPAs
Stronger, hoppy beers will be popular all fall. Customers will be drawn to bolder flavors and higher ABVs. IPAs are great for cooler weather because they're made to be sipped and go great with heavy and/or greasier foods.
Popular Fall Wines 2023
Sweater weather and wine are an amazing match. Tons of wines pair perfectly with iconic fall flavors. Take a look at your wine menu and see what wins you could add for the season or bring to the front of your customer's mind for maximum seasonal satisfaction. Here are a few no-brainers:
1. Syrah
Bold red wines like Syrah's have tons of personality. Most boast blue and black fruit flavors and aromas and are often described as having a black licorice, white pepper, and savory aspect as well. This is the ideal drink for fire-roasted meals.
2. Zinfandel
The great thing about Zinfandel is the range of flavors. Some can be light-bodied and others can be fuller. Hints of cranberry and jammy spices will have your glass feeling like fall.
3. Pinot Noir
Perfect for cool weather you can taste the raspberry, black cherry, black, cinnamon, or anise hints found in most pinot noir wines. Pair with fall food favorites like roasted chicken or dishes with mushrooms.
4. Merlot
Thanks to its lower intensity, medium tannins, and low acidity, Merlot is a must-sip in fall. Black fruit and chocolate flavors go perfectly with meats and desserts.
3. Prepare a Fall Promotion Marketing Strategy

After spending time creating a seasonal menu it's time to get the word out about your seasonal offerings. The best way to do this is to generate buzz using promotions that highlight fall features.

The perfect starting point is utilizing the food holidays and other celebratory occasions that occur in the fall like Oktoberfest, Halloween, and Thanksgiving. Update your website, print new menu leaflets, promote at your host stand, or send out fall incentives emails or texts to previous customers.

Offering incentives like a free fall appetizer with the purchase of a seasonal menu item or 2-for-1 mocktails on your slower nights or during happy hour time are perfect ways to introduce your menu.

If you have a social media presence this is the time to use it. Try posting a mix of straightforward offers, like graphics displaying your evening fall-themed specials, with soft-sell content like a behind-the-scenes look at the chef planting your new butternut squash pasta. Promotions and Loyalty tools are designed to help reach customers, increase ROI, and achieve key marketing goals so make sure to use them.

4. Prep For All Indoor Dining

For a big portion of the U.S., the fall season means colder weather. For restaurant and bar owners, the chiller weather means a shift in dining preferences. Rather you shut your patio/outdoor dining all together or you need to pull out heaters and/or firepits to make customers more comfortable, it's likely people will arrive and request to sit indoors.

Here are some things you should keep in mind as you prepare for indoor dining:
Take a moment to look at your current indoor table configuration with a critical eye. Have you maximized floor space without crowding guests? Is there adequate space for your front-of-house team to get where they need to go efficiently and safely? Are there enough POS stations? Are those POS stations easy to access and working correctly? Is there enough space for food runners to deliver meals? How can you reconfigure to accommodate larger parties and/or reservations?


Decorate up your dining room and host area with fall-themed decor. Even temporary decorations should be in line with your concept and overall aesthetic. Items like fall leaf garlands, warm twinkle lights, and candlelight tables in the evening are all easy and effective options. Choosing reusable decor pieces means you can store them and pull them back out in the following years. If you have room for a fall-inspired display somewhere the guests can easily see, try using items like burlap, mini pumpkins, gourds, and candles in earthy colors to make your showpiece.


Throw a fall-themed event. This is a perfect way to not only appeal to new guests but also encourage your regulars to stop by an extra night. It also gives you an opportunity to build and connect with your community while also reminding guests that you have a beautiful indoor space that's ready to host diners for the next few months (and beyond).


5. Get Ready For Takeout Increase
In addition to your customers most likely migrating from your outdoor dining to exclusively eating in your main dining room, cold weather can also mean more people staying home altogether. Adding takeout and delivery options to your business plan can help you reach customers who would rather stay warm and cozy at home.

Here are a few things to keep in mind to prepare for the potential increase in fall delivery/takeout orders:
Check your seasonal menu for any logistical issues. Meaning, can the entire menu translate to delivery? Are there any items that might be difficult to package and send to-go without sacrificing quality? If so, should you create a separate or modified delivery/takeout menu?


Stock up on containers, ensuring there are the proper sizes and types to accommodate your new menu.


Prepare a separate to-go/delivery/pickup area so these orders don't disrupt your restaurant's on-premise dining.


Make sure you have a reliable online ordering system in place for takeout and delivery. If you choose a third-party system like Grubhub or Doordash, or use your own online system, either way, make sure it's working correctly. The system you choose will reflect on your brand, so look for a platform that's reliable and that has the features you need.