This Saturday, raise a glass or two of your favorite agave spirit in celebration of National Tequila Day. Whether you're relaxing with a Ranch Water cocktail or savoring a stiff pour of an amber hued añejo, this weekend provides a built-in excuse to knock back tequila. For National Tequila Day, we wanted to see what the trends and popular new products are in the world of tequila. To get a clearer picture of the tequila market, we analyzed inventory and purchasing data from the restaurants and bars using our bar inventory software and found some interesting tequila trends.
Flavored tequila is primed for big growth
We compiled data going back to 2019 to see how products in the on-premise market have performed over the past 3 years. When reviewing the data, we saw the expected big brand names like Don Julio, Patrón, and Jose Cuervo owning the largest slices of inventory market share.
By segmenting the numbers by product styles, like blanco, reposado, añejo, and beyond we were able to find more interesting and unexpected trends in tequila. We found that the tequila category with the most exciting product trends is the flavored tequila segment.
Unsurprisingly, Patrón XO Cafe is the leading flavored tequila, owning 36.93% of the flavored category, and 1.19% of the overall tequila category.
Despite being on top, Patrón XO lost 9.63% of its inventory market share in bars and restaurants from 2020 to 2021, according to our data. Over the last few years, there's been a number of exciting new entries to the flavored tequila category with smaller producers releasing high quality and innovative flavored products.
Consumers are ordering flavored alcoholic beverages
In 2021 the biggest alcoholic beverage trend is ready-to-drink products like hard seltzers and canned cocktails. The RTD category is booming and hard seltzer alone is a billion dollar industry. With so many drinkers opting for easily consumable, pre-flavored beverages, flavored tequila products are in a great position to grow in on-premise venues and liquor retailers.
Read Backbar's Hard Seltzer Data Report
Most popular flavored tequilas in restaurants
When looking at the flavored tequila segment we saw that Patrón XO Cafe was the top product in the category. That wasn't too surprising as Patrón is one of the biggest tequila brands. XO Cafe was released in 1992 so its had a long runway in becoming the dominant flavored tequila.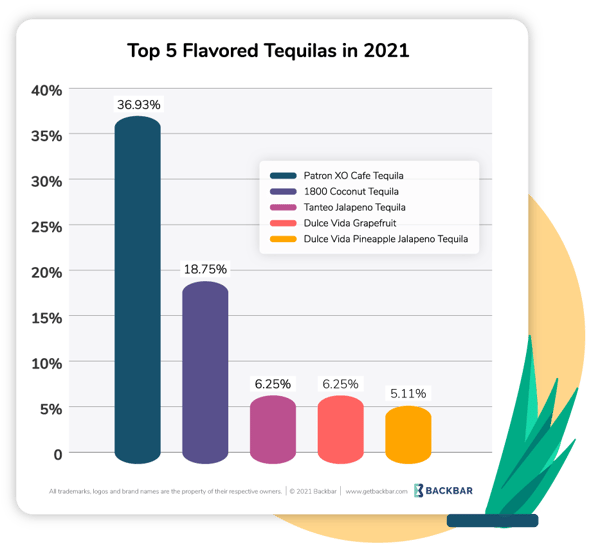 A lone coconut
After Patrón XO, 1800 Coconut Tequila takes the second spot with 18.75% of inventory product market share. That total is up 2.34% from 2020, a slight rebound after the coconut tequila dropped 6.46 share points from the 22.87% of market share it held in 2019.
1800 Coconut Tequila is the only coconut flavored tequila we saw in our data.
Flavored tequila can have high quality production
Tied for third place is Tanteo Jalapeño Tequila, owning 6.25% of market share and riding 2.05% growth in 2021. Tanteo produces 100% Blue Agave and is very transparent about their farming and pepper sourcing. As their website states, Tanteo is the "only Tequila owned and operated by a co-operative of agave farmers." They offer a high quality product specifically positioned as great base spirit for cocktails and appeal to cocktail bars and restaurants with a craft cocktail program.
Dulce Vida showing consistent growth
Dulce Vida Pineapple and Dulce Vida Pineapple Jalapeño round out the top five after three consecutive years of growth. Dulce Vida also produces an organic Blanco and Reposado offering, and they are the only the producer of the top five flavored tequilas to offer a ready-to-drink canned cocktail with the launch of their Tequila and Soda product in April of 2021.
Missing an opportunity?
Flavored tequila sounds like the perfect product to be canned or bottled as a ready-to-drink cocktail. Dulce Vida is the only top brand that has released an RTD product, smartly doing so ahead of the summer. Other brands should take note, especially with the recent news of Boston Beer Company, the producer of Truly Hard Seltzer, partnering with Beam Suntory to package Beam's Sauza tequila with Truly hard seltzer in Boston Beer Company's entrance into the bottle spirits market.
The seltzer market is a bit of a copycat market, with larger companies like AB InBev and Constellation Brands launching their own hard seltzer products after seeing the success of earlier market entries like Truly and White Claw Hard Seltzer. With the announcement of Beam Suntory and Boston Beer Company's partnership. we should expect to see more canned tequila cocktails and partnerships with hard seltzer brands.
Flavored tequilas with the biggest growth
Outside of the top five flavored tequilas other brands have reason to be excited, primarily Ghost Tequila, with their spiced blanco tequila experiencing impressive growth. The spirit company's founder, Chris Morgan, comes from the bar industry and introduces himself first and foremost as a bartender on the company's website, so it's not surprising to see strong growth in the on-premise bar and restaurant segment.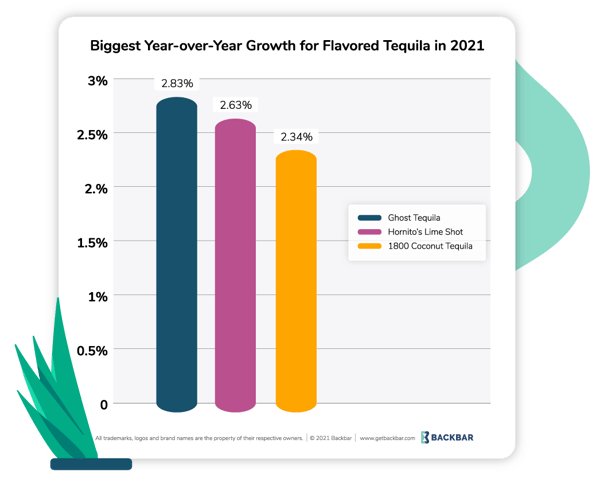 Most Common and Popular Flavors
Tequila is fermented from agave, which has a naturally sweet flavor with grassy, herbal notes underneath. A sweet base flavor provides great canvas to build flavors on top of, which is why flavored tequilas are a great fit for canned cocktails.
When compared to hard seltzers, tequila offers a wider range of flavors like warm spices like cinnamon and cumin or spicy jalapeño and habanero flavors.
The most common flavor for tequila is lime, which is also one of the most popular hard seltzer flavors. Pineapple, Dulce Vida's secret, is growing in popularity in both the flavored tequila category and hard seltzers.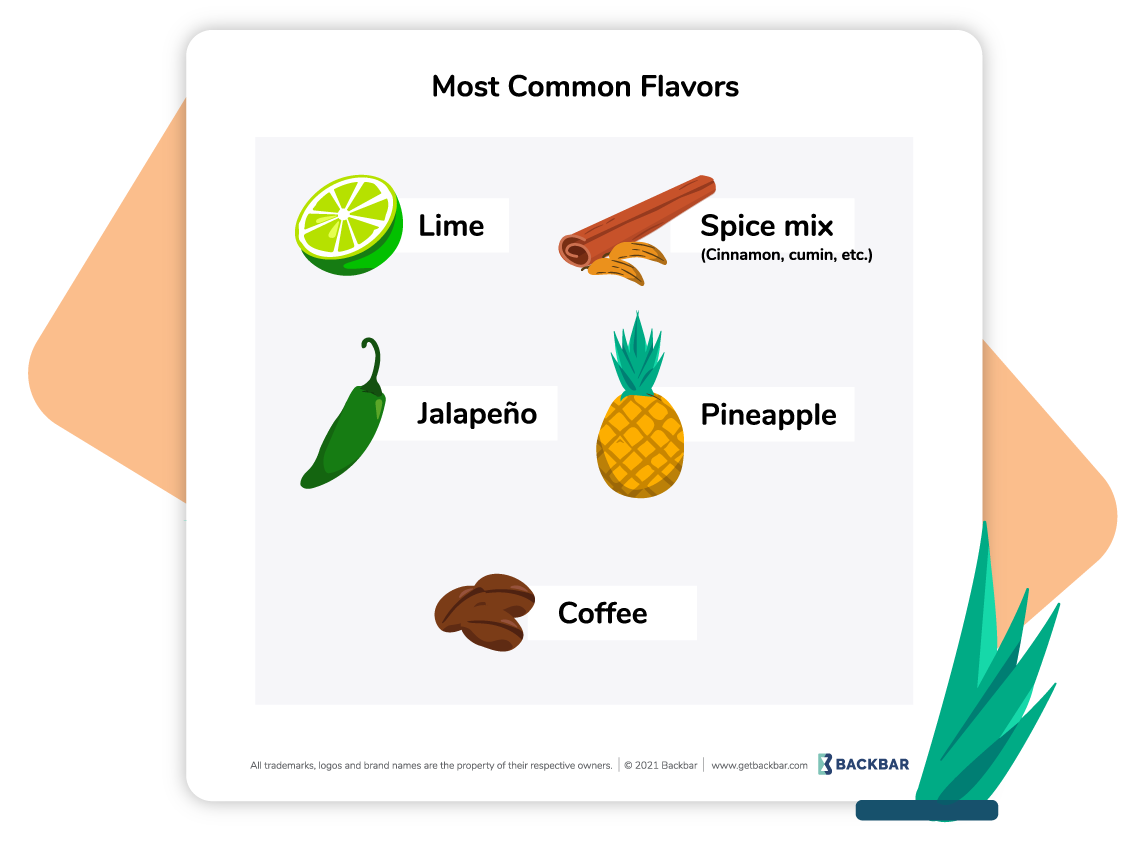 For any press inquiries about our tequila data or other on-premise beverage data from Backbar, please contact press@getbackbar.com