The first World Rum Day is being celebrated this month on July 11th, 2019. It's a day for bars, cocktail and spirit enthusiasts, rum runners, and mojito sippers to pay respect to one of the most versatile and delicious spirits ever bottled.
The inaugural World Rum Day adds to the calendar another day to celebrate rum, with August 16th being National Rum Day. Let's take a trip into the spirit world to explore different types of rum, international rum cocktails, and which countries the produce the most rum in the world.
What are the different types of rum?
Rum is a really versatile and varied spirit. Whether it's spelled "rum" or "rhum," there are a wide range of options to choose.
From refreshing white rums that bring summer's brightness to mojitos to premium rums fine as scotch, or dark rums you can find in a baker's kitchen to give a kick to desserts.
When discussing rum, there are generally four types of rum to consider. But with the four types of rum, there are variations and subcategories that the make the category so exciting.
What is rum?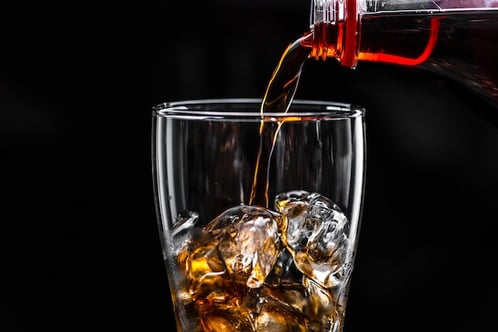 Before we dive into different styles, providing a quick definition for rum is helpful. Rum, at its heart and most basic description, is a liquor distilled from sugar. That sugar can be from sugar cane or molasses. Using sugar is what gives rum its sweet taste.
Let's take a look at different styles of rum and how they're best used.
Light Rum
Light rum is also known as silver or white rum. As the name implies, this style of rum has a light-body and color. Its sweet and clean taste is great as a base spirit for some of the most popular rum cocktails like the daiquiri and piña colada.
White rum, like its darker counterparts, is often aged. But white rum keeps it transparent color by being aged in stainless steel tanks instead of oak barrels.
Common uses: This rum is often used in cocktails like the mojito, or daiquiri and piña colada as mentioned above. It's also a great fit for the rum and cokes, also known as a Cuba Libra.
Amber Rum
This is the goldilocks rum, it's a true centrist falling between light and dark rum on the scale. Amber, or gold rum, gets its color and deeper flavor by being aged in oak barrels. Many amber rums, and barreled-aged rum in general, utilize charred oak barrels previously used for aging bourbon to add more flavor, body, and color.
Common uses: Though it's darker and more robust than light rum, amber rum can be used in much the same way as light rum. It will add subtle depth to cocktails, and carries itself well in drinks with bolder flavors like the ginger beer used in a dark 'n' stormy.
Spiced Rum
Spiced rum generally uses amber rum as the base, with spices and sometimes caramel added for more depth and character. Baking spices like cinnamon, cloves, and cardamom are common flavorings.
Common uses: Great in cocktails and mixed drinks. The most well-known spiced rum is probably Captain Morgan. The spices pair well with heavier mixers like coca-cola or ginger beer.
Dark Rum
Dark rum is generally made from molasses. Where light rums will use sugar cane as its base. The molasses used as a base for dark rum distillation gives it a deep color and flavor, as well as a heavy, syrup-like mouthfeel. They are aged longer than amber rums, and spend enough time in oak barrels to take on the spices and flavors often associated with bourbon.
Common uses: Of course, dark rum is a key ingredient in the dark 'n' stormy cocktail. These rums are also used in cooking and baking, like the classic New Orleans ice cream dessert Bananas Foster, which uses dark rum as an ingredient in the sauce.
Subcategories of Rum and Similar Spirits
Premium Rums: These rums are top tier spirits that are meant to be sipped and enjoyed unadulterated like scotch and cognac. They often came with age statements similar to high end bourbon and scotch.
Blackstrap Rum: Not a true category of rum in itself, this substyle has grown in popularity lately in cocktail circles. Blackstrap rums are heavier than most dark rums on the market, and the taste isn't something you'd want to sip on its own; it can be bitter, salty, and give off an industrial flavor that's off putting on it's own. However, when used in small quantities, it can add bold and rich flavors to cocktails like the Jungle Bird.
Overproof Rum: If rum styles were boxing categories, Overproof or Navy Strength rum would be the backyard, bare knuckle class of fighting. High in alcohol, these rums are great if you want to light your cocktails on fire.
Flavored Rums: Think tropical flavors: pineapple, banana, or coconut. Flavored rums can use natural ingredients to add flavor complexity or chemical additives. These rums are often underproof, clocking in at less than the 40-percent ABV most rums are sold at.
Cachça: A Brazilian spirit similar to rum that is also produced from fermented sugar cane.
Rum vs. Rhum
We mentioned the distinction briefly before, but there is actually a useful and important difference in production indicated by the different spellings.
Rhum is shorthand for the term Rhum Agricole, which indicates that the rhum was distilled from freshly pressed sugar cane juice. The cane juice is mixed with yeast to create a sugar wine that is then distilled to create rhum. The island of Martinique is famous for rhum agricole product.
Rum on the other hand, is produced from molasses derived from sugar cane. In this process, the sugar cane is cooked in water and boiled down to create thick, brown sugar, or demera molasses. The molasses is then fermented to produce rum.
Rhum agricole has a lighter, more vegetal flavor than molasses-based rum.
Cocktails to Celebrate World Rum Day
Rum, with its Caribbean heritage, can make a strong claim as the ideal summer liquor for cocktails. Some of the world's most well-known cocktails are rum based drinks.
Mojito
A classic Cuban cocktail that is vibrant and refreshing. This drink is best with light or amber rum. An acidic brightness comes from lime juice and the refreshing, herbaceous mint provides a coolness like a coastal breeze. Not only is July 11th World Rum Day, it's also National Mojito Day, making it the perfect drink to mix this July.
Mojito Recipe
1.5 oz white rum
1/2 oz. simple syrup
.75 oz lime juice
8-10 mint leaves
4 oz. soda water
More mint leaves and lime to garnish
Add the simple syrup, lime juice, and mint to a cocktail shaker or pint glass. Muddle all the ingredients together. Add the rum and shake hard for 10-15 seconds. Add the mix to a glass full of ice*. Top with soda water and garnish with mint and lime.
For a cleaner presentation, strain the mint leaves. You can also muddle 1/2 a lime cut into quarters instead of using lime juice.
Daiquiri
This is the recipe for a classic daiquiri, not the frozen drink mixed at beachside bars. There's nothing wrong with a frozen daiquiri when made right, but the classic version is just as refreshing and allows you to forgo a screaming blender. It's another rum drink that originated in Cuba.
Like many of the best cocktails, this a three ingredient powerhouse.
Daiquiri Recipe
2 oz. light rum
.75 oz. lime juice
1/2 oz. simple syrup
Garnish with lime wheel
Mix all the ingredients into a cocktail shaker. Shake hard with fresh ice, then strain into a cocktail glass.
Jungle Bird
This cocktail was essentially forgotten until the tiki cocktail revival of the 2010s. The lore says that it was created in Kuala Lumpur in the bar at the Kuala Lumpur Hilton.
It's considered a tiki cocktail, which is a class of often complex rum-based drinks. But the Jungle Bird doesn't call for as many ingredients, and can be made easily at home without having to stock your bar with single use items.
This recipe is from Punch.
Jungle Bird Recipe
1 1/2 oz. rum, Jamaican or Blackstrap
.75 oz. Campari
.5 oz lime juice
.5 oz. simple syrup (1:1 sugar:water)
1 1/2 oz. pineapple juice
Pineapple wedge for garnish
Mix all ingredients in a cocktail shaker and shake hard with fresh ice. Serve in a rocks glass.
Dark 'n' Stormy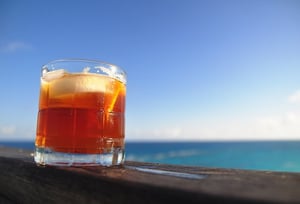 A cousin of the moscow mule, the dark and stormy has commercial side just like the moscow mule. The spelling of the cocktail as "dark 'N stormy" is actually trademarked by the Gosling Brothers rum company of Bermuda.
Dark 'n' Stormy Recipe
2 oz. Gosling's or Myers's dark rum
5 oz. ginger beer
Lime wedge
Float of dark rum
Add the rum and top with ginger beer. Leave some room to add a "float" of dark rum at the end to create the "stormy" appearance.
Rum Production Around the World
Rum is produced heavily throughout the Caribbean and Latin America. Barbados is often cited as the first country to produce rum for sale. Rum production has a long and often troubling past, with colonizing countries like France and Great Britain having an impact on rum styles and production.
Molasses-based rum production
Countries that produce rums with rounder, sweet character that are often darker:
Antigua, Trinidad and Tobago, Grenada, Barbados, Saint Lucia, Belize, Bermuda, parts of Jamaica.
Rhum Agricole
Martinique, Haiti, and Guadeloupe.
Añejo or Gold Rum Style
Cuba, Colombia, Dominican Republic, Guatemala, Nicaragua, Panama, Puerto Rico, and Venezuela