Batched cocktails are nothing new, but with the given circumstances of COVID-19, their convenience and ingenuity are integral to the survival of restaurants.

With to-go cocktails recently being signed into law, this opens up an important revenue stream for struggling restaurants that are looking for new ways to stay afloat. Batched cocktails save restaurants time, money, and provide consistency for your guests.

Whether you want to increase take-out sales during social distancing measures, or you're thinking about adding bottled cocktails to your dine-in menu once restrictions are lifted, batching cocktails ahead of time is guaranteed to benefit your restaurant.



Bottled Cocktails Save Time
Prepping behind the scenes is the key to pulling off a great performance. You wouldn't expect to be able to feed a full restaurant without having done a little chopping, mincing, and food preparation beforehand, right? In the same way we prep our kitchens for busy service, we should be doing the same for bars too.
Consider this common scenario—it's Saturday evening, and a large bachelor party strolls into your bar. The bar is already elbow to elbow, and your bartenders are in the weeds.
The bachelor party asks for three Manhattans, five Martinis, a Bloody Mary, and two Daiquiris. In the time it takes for a bartender to properly measure, dilute, and stir all of these drinks, they've fallen even further behind, and they haven't had a chance to say more than two words to their guests.
If you had batched some Manhattans or Martinis in your off hours, you would have given your staff more time to interact with their guests during service hours.
Put the Focus Back on Your Guests

Batching certain cocktails allows your staff a valuable asset—extra time. With a few bottled cocktails stashed in their reserve, you're giving staff the time to clean and reset the bar, or the time to chat with a customer. Guests want to feel special, and if your bartender is too busy making drinks to make eye contact, they won't have a good experience.
While complicated drinks with a lot of ingredients might be tasty (and are great for putting on a show), it doesn't do your staff any favors if every drink on the menu has to be muddled, shaken, and double strained.
Guests don't want to wait 15 minutes for a drink, and if most of your cocktails require the bartender to make six to seven bottle touches, your ticket times are going to be long. One to two bottled cocktails are a necessity for providing quick, reliable service, especially at a high volume establishment.
Batched Cocktails Can Still Be Creative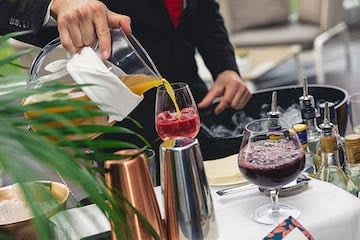 If you're concerned with showmanship and appearances, you can get creative with how you present your batched cocktails, so it's still a memorable experience for your guests.
We get it, pouring a drink into a glass can be a little anticlimactic. With a bottled cocktail only taking seconds to serve, you should consider creating thoughtful, attractive garnishes to go with it. Convince your guests that this cocktail is worth their money.
Not every batched cocktail has to come in a bottle. A boozy slushy machine is sure to be a conversation starter, and it allows you to give your customer their perfectly portioned drink in mere seconds, as opposed to a few minutes. Manhattans on tap? Yes please! Anything like this is bound to get your guests talking, and they'll be even more delighted when they taste how good it is.
To-go Cocktails Can Keep You Afloat
Restaurants have had to reinvent the way they serve their guests, and many have gotten creative in light of the new social distancing guidelines.
To-go cocktails are just another way to provide your guests with an amazing experience in the comfort of their own home (and put extra money in your pocket, too). While it may be a bit longer until your guests can safely venture back to the bar, at least they have the option to sip on your signature Moscow Mule or Paloma while they relax at home.
If you haven't already, adding a pre-batched cocktail to your takeout menu is essential if you want to increase check numbers and bring in a new source of revenue. At this point, it's crucial to save money and increase profits wherever you can. In an effort to help you save, Backbar is offering restaurants 6 months of free service to help you bounce back once restrictions are lifted.
A Bottled Cocktail is Consistent
As we mentioned before, batching cocktails saves you a lot of time. And if your bartenders don't have enough time, drinks begin to lack consistency.

If you've ever been to a bar before, you've probably had a bartender make you a delicious cocktail—you may have loved it so much, that you ordered another one. Only this time, it tasted a little off.

A few things may have happened—maybe the bartender got busy and rushed through the cocktail, so it wasn't properly diluted. They may have forgotten an ingredient, or added too much of another. A lot of things can go wrong when your staff is working against time, and the first thing to go is the consistency and quality of your cocktails.

This is where a batched cocktail can be a saving grace for your establishment. In spite of any errors you may encounter throughout the workday, you can rest assured knowing that your batched cocktails are balanced, exactly the same, and ready to drink. Providing repeatability and consistency will make for happy customers and staff.
Reduce Overall Liquor Waste by Batching
This brings us to the cost benefits of batching. While it is time intensive, if you take your time and do it right, batching cocktails will save you money and reduce profit losses.
On a busy Saturday night, how much liquor are you losing from spills and over pouring? Quite a bit, actually. And it's inevitable. Even if your bartenders are properly trained, and using measuring tools, there's bound to be costly spills and mistakes that add up.
While some degree of liquor loss is unavoidable, you can eliminate some of it by bottling cocktails, especially the ones that might be more complicated to make on the spot. If your signature cocktail has a lot of ingredients or precise measurements (thereby, easy to mess up), it might be best to batch this one ahead of time.
Managing Batched Cocktails
Although bottling your cocktails can save money, if you don't take your time, it's going to cost you. If you miscalculate one element in a batch, that entire batch is likely unsalvageable. That's why you want to ensure you are precise with your measurements, labels, and ingredients while batching.
Labeling and Logging Your Batches
When pre-batching cocktails or juices, you need to properly label and date each bottle, especially anything with perishable ingredients. This way, your bartenders aren't just blindly pulling bottles from the fridge, and they know which bottles to pull first.
As you're preparing your batches, be sure to track any liquor you're using in your inventory. Without properly logging this information, you can easily lose track of items, and make the mistake of over/under ordering on your next order.
Log the liquor used for your batches in the Backbar app—this will also help with pricing your newly bottled cocktails as well.
The Best Cocktails to Batch

After all of that, maybe you need some help deciding what to batch on your menu.
Classic Cocktails
Most classic cocktails are an excellent choice for pre-batching, as they are spirit forward with minimal ingredients, giving them an indefinite shelf life (as long as they are properly stored). Negronis, Manhattans, and Martinis are among the cocktails that can be bottled and served with great success.
If you want to take it a step further, you can age them in barrels to add a distinct flavor to your batch.


Citrus Cocktails
When batching a cocktail that contains fresh elements, such as fruit or citrus, you have to take its shelf life into account. Fresh squeezed juice loses its freshness and oxidizes quickly—you don't want your guests to end up with a stale drink for the sake of convenience.

If you want your batched margaritas to taste like they were made on the spot, be sure to add the citrus component to your batched cocktail right before serving. You'll save time, without compromising on the taste of your cocktail.
Batching Mixers

On a busy Sunday afternoon, it seems like everyone wants a Bloody Mary (a drink with at least 8-10 ingredients). Realistically, do you think your bartenders have time to make dozens of these at a time during brunch rush? And on top of that, will the drinks be consistent?

You can get strategic about batching by preparing cocktails or mixers ahead of time for certain days of service. Save yourself the agony and pre-batch the Bloody Mary mix before Sunday brunch—just add the vodka before serving.
Keep in mind that a fresh Bloody Mary mix won't keep longer than 2-3 days, so be sure to properly label your mixes and batch in small quantities as needed.
Key Points to Remember:
Batched to-go cocktails are a great source of added revenue for restaurants
Batching provides consistency, saves money, and saves time
Be sure to properly label and log your inventory while batching
Get creative with how you present your bottled cocktails, so your guests feel like the cocktail is worth their money
Familiarize yourself with proper storage techniques for perishable items