Everyone remembers the first time they had a beer (well, you might remember, depending on how much you had).
Whether it was in a basement at a college party, or on the back porch with your old man, beer is usually one of the first alcoholic drinks we ever consume. And oftentimes, we don't give it the credit it deserves.
While pairing wine with food is practically an art form, we haven't always given the same attention to how beer pairings can make or break a meal. Cicerone certification has only been around since 2007, while sommeliers have a long and complex history.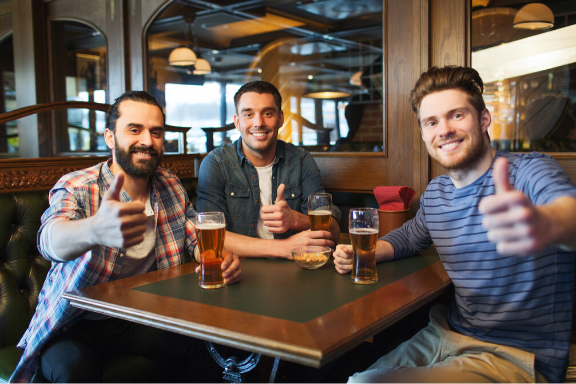 The good news is, beer is no longer an afterthought—the industry is finally giving beer and wine the same weight when it comes to food pairings. If you've realized that beer is for more than just tailgating and country music concerts, then it might be time to consider tailoring your beer inventory to your food menu.
Offering beers that complement the type of cuisine you serve can take the taste and intensity of your food to the next level. Keep in mind, there are no "rules" here. Pairing should be fun, and ultimately, your taste buds should decide if a pairing works or not. However, there's a few things you can keep in mind that will enhance enhance the flavors on your menu.
Read on to discover best practices when it comes to pairing beer and food.
Types of Beer
Beer can be broken down into two broad categories: lagers and ales. From there, it can be broken down even further into countless styles and brews.
While the sheer amount of beer to choose from can be overwhelming, if you think about what you are trying accomplish with your pairing, it can make it easier to choose beers that go with your food menu.
Pairings typically accomplish one of three things; with pairings, your goal should be to complement similar flavors, contrast different flavors, or cleanse the palate. We'll cover common categories of beer, their characteristics, and how they can be beneficial for your menu in different ways.
Light lagers:
Clean, crisp, light
Light body
Low ABV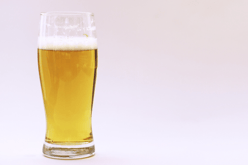 Ah, the lagers. These are probably the most versatile type of beer we will discuss, as they will go with literally anything. Burgers? Pasta? Stale bar popcorn? It makes good food even better, and it makes food that is just "okay" taste pretty good too.
Lagers go great with nearly any type of cuisine, because they can do all three things we mentioned above: complement, cleanse, and contrast. Every restaurant, regardless of cuisine, will fare well with a few options on their menu.
If you're an Italian restaurant, you probably serve a variety of chicken, pasta, and shellfish dishes. Beers that are light in body and taste (like lagers) should feature prominently on your drink menu, because they will complement lighter dishes, and won't overwhelm the delicate flavors present in your cuisine.
Lagers are also great at cutting through spicy flavors. If you serve Indian/Mexican/Asian cuisine, then those light beers on your menu will act as a palate cleanser, readying your guests for another bite.
Lagers also contrast with heavier foods, like ribs, burgers, and stews. Just when you think you can't handle one more bite of that burger, the light crispness of a lager helps you make it to the finish line.
Dark lagers:
Nutty, sweet, toasted caramel
Medium body
Mid-range ABV
We all love a bit of sweet and smoky. That's why dark lagers should be at the forefront of any barbecue joint.
Dark lagers tend to be low in acidity and bitterness, so they are versatile when it comes to pairings. The flavor and body of dark lagers won't compete with your dry rub or your signature homemade BBQ sauce, they'll just enhance it. The sweet, subtle flavors of dark lagers will make an agreeable pairing with anything smoked or caramelized.
German cuisine is also a perfect match for a dark lager (it's incredibly popular in Europe for a reason). That sausage or kraut is going to taste even better with a dark lager to wash it down.
Stouts:
Chocolate, coffee, malt
Medium body
Low ABV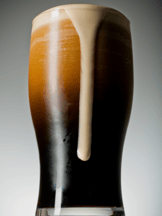 If grilled meat is the star of your restaurant menu (we're looking at you, steakhouses) then this beer is going to take your ribeyes and strip steaks to the next level. The smooth and creamy mouthfeel of stouts pair wonderfully with the savory char of a perfectly cooked steak.
But you don't have to limit yourself to meat. This beer is smooth, chocolatey, and packed with flavor. So naturally, these beers go amazing with a rich, chocolatey dessert! You can even go so far as to marry stouts with food. A stout with a scoop of vanilla ice cream makes for a delicious, boozy float.
A contrasting pairing that may seem strange (but people seem to swear by it) is stouts with oysters. The smooth creaminess of the stout contrasts nicely with the salty, briny mouthfeel of oysters (we're too scared to try this one, so let us know how it is).
Sours (gose):
Lemon, salt
Medium body
Low ABV
These beers are the perfect summer companion, because they somehow taste like the beach—citrusy, salty, refreshing. These beers are high in acidity, so keep that in mind when you are coming up with potential pairings.
If you have a lot of seafood on your menu, then you've got to have a selection of sours to keep palates happy. Entrees like chips and guacamole, ceviche, and shellfish dishes have a level of salt and acidity that complements the tart freshness of a sour beer.
Amber Ales:
Malt, caramel, toffee
Medium body
Mid-range ABV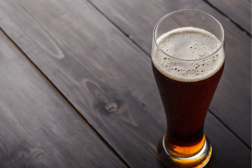 This golden beauty brings out the best in whoever she's paired with.
Amber ales might give wine and cheese a run for their money, because amber ales go fantastic with sharp cheeses. We're not knocking wine here, but seriously, give an amber ale a try with some sharp cheddar instead of that glass of Chardonnay.
Since these go so well with cheese, you might fare well with a selection of amber ales if you run a pizza joint (especially if you like to get creative with those toppings and types of cheeses).
IPAs:
Pine, floral, herbal
Medium body
Higher ABV
India Pale Ales (IPAs) can be a bit tricky for pairings, because they want to be the star of the show. You have to pair them with foods that can compete with the hops and bitterness. Knowing the key flavors in your IPA (as well as the intensity of the hops) will help you make a great pairing.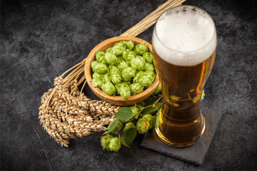 IPAs contrast well with salty and fried foods, so you can safely sip on a hoppy brew with some fried chicken (honestly, this might be one of the best matches). The salty and bitter flavors come together in perfect harmony. If you have an abundance of fried foods on your menu, then this will hit the spot.
IPAs also complement bold foods, like aged cheeses, meats, and sausages. You can probably safely recommend an IPA to go with that charcuterie board on your menu.
Be aware, IPAs can intensify spicy flavors (as they are high in carbonation), so only recommend it to those that are ready for an extra kick!
Wheat beers:
Bread, citrus, banana
Light body
Mid-range ABV
Wheat beers are the perfect summer beer. They're light, agreeable, and they just want to have a good time.
Similar to lagers, wheat beers tend to be gentler on the taste buds, so they can pair well with almost any dish. They'll take the back seat and let the flavors in your dish shine through.
Wheat beers tend to have notes of citrus and fruit, so if your cuisine is on the lighter side (sushi, salads, vegetables) then this will be your best friend—make sure to keep your inventory stocked with these.
Beer Flights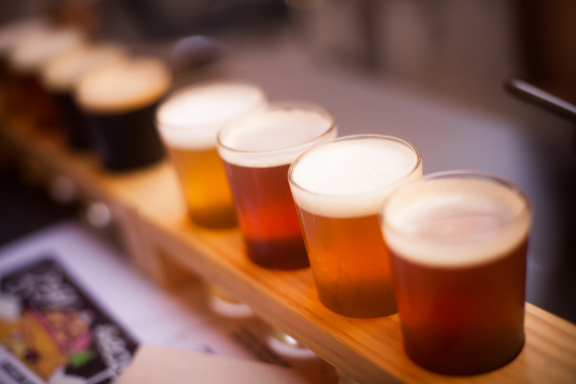 As you may have gathered from this list, there are no hard and fast rules, and there are so many different ways you can go about making a pairing. Offering beer flights is a great way to show your guests how different beers can pair with food in a variety of ways.
By offering customized beer flights (and recommending that your guests drink the flight in a certain order), it will maximize the flavors and their dining experience. They can start with complementary flavors, move on to contrasting flavors, and end with a palate cleanser.
Here are some ideas to get you started:
Fried fish and chips
Complement: IPA
Contrast: Dark lager
Cleanse: Light lager
Aged gouda, gruyere, and sharp cheddar plate
Complement: Dark lager
Contrast: Light lager
Cleanse: Wheat ale
Thin crust pizza with smoked Italian sausage

Complement: Amber ale
Contrast: Light lager
Cleanse: Pilsner
Carnitas tacos
Complement: IPA
Contrast: Amber ale
Cleanse: Light lager
Spicy miso ramen flight
Complement: Gose
Contrast: Porter
Cleanse: Wheat ale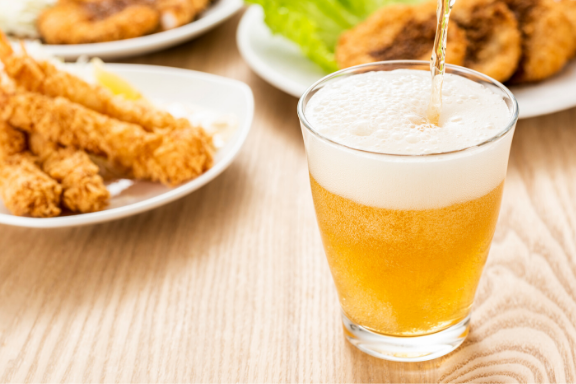 Beer and Food Pairing Review:
Complementing Flavors
You can't go wrong with pairing things that are alike.
If you want to play it safe, you can make food and beer pairings based on items that have a similar body or flavor. Pair heavier foods with bold beers, and lighter foods with lighter beers. Sweet with sweet, citrus with citrus, bitter with bitter. You get the idea. The goal is to marry two similar flavors, so nothing should be competing for air.
Palate Cleansers
Sometimes, cutting through intense or heavy flavors is what your menu needs.
If you serve really greasy, spicy, or rich food, having a lot lagers or wheat beers on the menu will be a great palate cleanser for your guests. Sometimes the spice lovers need a break!
Contrasting Flavors
Matching can get a little boring, so it's always fun to switch it up a bit.
Like we mentioned before—oysters and stout? You may think something won't work, but it can pay off if you give it a try. Think outside the box with your pairings! Sometimes the unexpected pairings can reap a huge flavor payoff.