Did you suggest a drink while they wait? Have they seen a dessert menu? What about that cabernet we're trying to sell?
Managers are always looking for clever ways to raise their check averages for in-house diners, but oftentimes, the delivery and to-go crowd is overlooked. How would you even upsell to someone who isn't physically there?
Statistics show that there's good reason to pay more attention to your off-premise customers. Since 2014, online ordering has increased over 300% faster than dine-in sales. This statistic is proof that your delivery and to-go options are not only a great source of revenue, but that there is a huge opportunity for increasing these sales.
With some subtle upselling techniques, clever marketing, and a little bit of hospitality, you can easily increase your sales and provide an even better experience for your customers.
Here are some of the simplest ways to raise your check averages for delivery and to-go orders.
Encourage Guests to Order Online, Rather Than Over the Phone
Hello—hello? Can you repeat that? What was the address again? Did you say no onions?
A lot can get lost in translation when a guest places an order over the phone. And on a day when your dining room is bustling, your servers may have less than 30 seconds to spend on the phone with a guest—it's not exactly a scenario that is conducive to upselling.
While it's great that your guest wants to order directly with you, there are far more efficient ways for your guests to order—and it will instantly put more money in your pocket.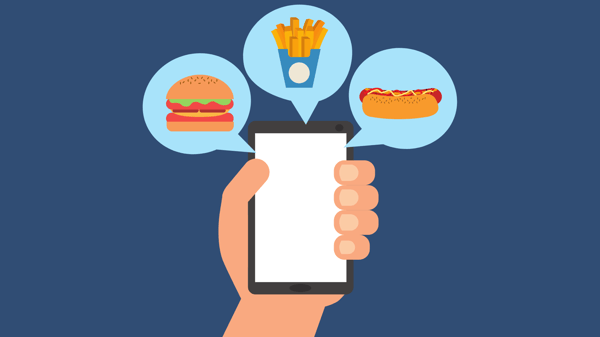 If you haven't already done so, consider upgrading to a mobile and online ordering system for your restaurant. Many newer POS systems have online ordering already integrated, so orders can be sent directly to the kitchen—and you get to keep 100% of the profits.
Aside from ditching the third party fees, can this really increase your check averages? Countless studies indicate yes. Apparently, customers that order a pizza online will spend an average of 18% more than if they had ordered it over the phone.
The reason for the higher spend? Your guests have more control over their ordering experience—they can leisurely scroll through your menu, ponder different toppings and add-ons, and maybe throw in a few extra sides they wouldn't have on the phone.
Ordering anxiety is a real thing, so help your guests out by ditching the phone calls. Online ordering makes delivery and to-go orders more seamless, reduces the risk of miscommunication, and raises your overall check averages.
Add Professional Photos of Your Food to Your Website
Over the last few years, marketing has become far more visual—ever wonder why so many restaurants are constantly posting pictures of their food on Instagram and Facebook? It's for good reason.
Humans process visual data 60,000 times faster than text, so showing your guests an amazing photo of your burger, rather than telling them about it, is going to cause them to salivate.

Check out S.K.Y. Restaurant in Chicago; their photographs do a great job of highlighting how delicious and high-quality their meals look. Everything on their menu looks as good as it sounds (which is pretty important).
Studies have shown that professional food photography can increase your sales by up to 30%—we definitely eat with our eyes first.
You can take advantage of this by strategically placing photographs next to items you'd like to sell on your online menu—whether it's an in-house favorite, an item that isn't selling well, or one of your dishes with the highest profit margins.
A great photo-op not only showcases the quality of your food, but it's a visual nudge that says, "get that extra side...and maybe a dessert while you're at it."
Set Up Your Online Menu Strategically
Since you don't have face to face interaction with your digital customers, you need to optimize your online menu to generate the maximum amount of profit. With a few tweaks, upselling can be built in to your online system.
Here are a few effective methods for raising those to-go check averages with your online menu:
1. Place menu items with the highest profit margins at the top. It's generally recommended that you display your most profitable items at the top of your menu, so it's the first thing your customers see as they scroll down.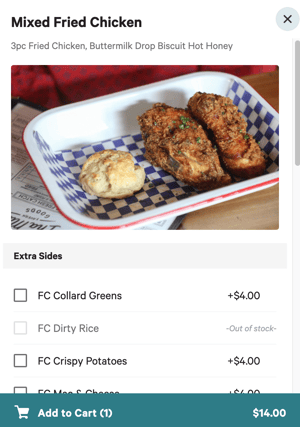 2. Generate a list of popular add-ons with each of your menu items. Make it easy to customize your dishes, so your guests are inclined to spend more money. This way, your guests don't even have to think about it (and it won't feel like an upsell to them). For example, make sure your customers can easily add grilled chicken to a salad, or add avocado to a sandwich. Always prompt them to add a side too!
3. Use strong verbiage and descriptive language to enhance your dishes. Bring your food to life with wording that will compel your guests to order—succulent, savory, juicy, crisp—go nuts with the adjectives! And according to a study at Cornell University, this can up your sales (and guest satisfaction) by 27%.
4. Create meal deals for families and large groups. A lot of families are looking for a deal, and they're more likely to spend their money with you if your online menu caters to their needs. Set aside a section specifically for families and large groups with bigger portions, combos, and sides.
Suggest Food and Drink Pairings
When your guests opt to order online, they may be less inclined to order alcoholic drinks with their food because they are paralyzed by choice—and they don't want to make an unsatisfactory pairing. Without a server or a sommelier around, making the choice online can feel daunting.
Mitigate some of their anxiety by suggesting food and drink pairings on your menu. Next to each of your dishes, include a wine or beer that will complement its flavors.
If they decide to partake, the suggestion will make it easier for them to choose, and you're bringing back some of the hospitality they'd be experiencing if they were sitting down in your restaurant.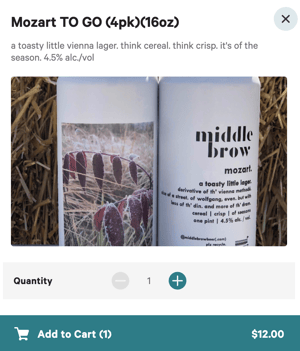 If you don't want to suggest pairings, make sure to put some effort into your drink descriptions. Give customers an idea of the taste, aroma, and mouthfeel they can expect from the drink.
Enticing a guest to order alcohol with their takeout order is huge—alcohol sales yield the highest profit margins, so selling that bottle of wine or six pack of beer can quickly raise your profits.
Offer Exclusive Discounts on To-Go Orders
The happy hour savings shouldn't be limited to your in-house guests. A great way to entice your virtual guests to order more items is to offer happy hour deals when they order in.
For example, you can offer a discount on your alcoholic beverages when it's ordered to-go. Volo Restaurant and Wine Bar in Chicago is offering 50% off of their wine list, but only when you order it online.
This kind of deal works for a lot of reasons—for a customer that initially only wanted to order food, that 50% wine deal sounds pretty good. And for a customer that was looking to order just one a bottle of wine, a 50% off deal means they might order more than one bottle.
While decreasing your prices might sound counterintuitive if you want to raise your check averages, offering discounts has been shown to increase customer satisfaction, as well as the final amount they spend.
Whether you want to do BOGO, discounts, or limited time offers, it's a great way to induce customer loyalty, and encourage them to spend more on their orders.
Generating Higher Check Averages Can Be Lucrative For Your Business
Using some or all of these strategies together is a great way to increase your ticket sizes for delivery and to-go orders.
Especially as restaurants pivot primarily to off-premise sales, it's important to pay attention to how these sales are doing, and locate areas where you can perform better.
In order to fully ascertain your performance levels, it's a great idea to invest in a bar inventory software. Closely monitoring your inventory can tell you which items are selling well, which ones are overstocked, and which items may need a little more love.
Backbar's software shows you the profitability of your bar program, and gives you pointers to help you improve. Our expert pricing tools will also make discount pricing a cinch, so you can create those deals with your margins and markups in mind.
Key points to remember:
Online ordering is more efficient and accurate than phone orders
Professional photos make your restaurant and your food more attractive to customers
Strategic placement of items on your online menu is key
Food and drink pairings can increase your alcohol sales
Offer discounts and exclusive deals for online orders