We've already given bars and restaurants some advice on how to cut costs; but there are plenty of companies out there that are being quite generous with their time and money to help those affected by coronavirus.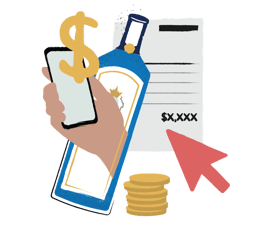 Aside from business savvy decisions you can make to increase your cash flow, you can take advantage of these discounts and freebies that are available for bar and restaurant owners.
From POS system upgrades, to restaurant management, and health and safety services, we've rounded up some of the best deals you can find to help with the day-to-day operations of your restaurant.
These are 7 of our favorite businesses offering free services or reduced prices to help restaurants recover from the COVID-19 pandemic.
1. ServSafe
ServSafe is an accredited food and alcohol safety training program managed by the National Restaurant Association (NRA), so getting restaurants up to speed with COVID-19 regulations is well within their wheelhouse.
On their website, they're offering free training videos for FOH and BOH staff. Their courses include safety protocols on takeout, delivery, and best practices for reopening your dining room for service. They also cover the basics, like proper hygiene and hand washing techniques.
With everything else on their plate, restaurant operators simply don't have time to re-train their entire staff—but with ServSafe's free classes and resources, you can scratch it off your to-do list.
2. OpenTable
OpenTable is a platform that helps diners make online reservations with their favorite restaurants. Given the current climate, many restaurants are opting for reservation-only dining to ensure the safety of their staff and guests—so now is a great time to use their services.
OpenTable is currently offering an enhanced management platform, as well as huge discounts for their customers. Their new management system will allow restaurants to quickly notify diners of any last-minute changes, which is a great perk for busy restaurants.
And their discounts for new members are generous—if you sign up now, you will see no subscription fees through the rest of 2020, as well as no cover fees through 2020. Definitely snag this one up while you can.
3. CardFree
CardFree is taking touchless and contactless dining to the next level—and with three months of their services free, it can really be beneficial for safety-conscious restaurants looking for an upgrade.
Paying and ordering can be done completely by phone, so it eliminates the need for touching shared surfaces like check presenters, pens, or kiosks. It's added peace of mind for your guests and your waitstaff.

The best part? Their platform works for delivery as well as dine-in, so you can cater to your curbside crowd as well as your patio lovers.
4. Food Handler Solutions
In a business move similar to ServSafe, Food Handler Solutions (a nationally accredited training company) has made the decision to offer their food safety training course for free, in an effort to educate as many people as possible on coronavirus.
These courses are available to anyone, regardless of whether you work in the service industry.
Their courses focus on understanding the virus and learning how to mitigate the spread, as well as how this impacts food safety. All you have to do is register online to begin your free course.
5. OneDine
OneDine is another contactless solution that allows diners to browse menus, order, and pay from their phone. Right now, they are waiving transaction and installation fees, as well as providing free table sensors for their customers.
The great thing about their technology is that you don't have to change your existing POS system in order to integrate OneDine. According to their website, this technology can be added on to nearly any POS, and they claim they can get you set up in as little as 72 hours.
With such a quick turnaround, it's a great option for restaurant operators looking for a fast solution.
6. Qu
Qu is an ordering platform that specializes in quick service and fast-casual restaurants. Again, no need to worry about changing your POS system, as they will fully integrate their product to your existing framework.
Their current offer is free for 90 days after you sign up. In an effort to boost online ordering, they will enhance your online menu and create a contactless system for your pick-up and to-go orders.
Your restaurant will automatically be much safer, and you'll be set up in 72 hours or less.
7. Backbar
We'd be remiss if we didn't mention our own efforts to help those struggling with COVID-19 related hardships.
In a bid to help bar and restaurant owners, Backbar is offering 6 months of our services free to get your bar back in order.
Our app and desktop cloud system streamlines your bar inventory process. We keep all of your vendors in one place, automatically price and cost your drinks, and our detailed inventory reports will show you where to make adjustments so you can grow your profits.
We will save you money, and a few headaches too.