The ready-to-drink beverage category (RTD) has seen insane growth the past couple years. That's mostly thanks to the explosive sales of hard seltzer propelling the drink category nearly into space like a tech billionaire's rocket. While sales numbers from Boston Beer Company's Truly Hard Seltzer have slumped compared to expectations, there is still a lot of room for growth as the category continues to expand beyond the hard seltzer segment. So what is in store for beverages like ready-to-drink cocktails? Let's take a look at some RTD trends in restaurants and beyond to see the future of the RTD category.
The opportunities beyond seltzer
Earlier this year, we released a report on the state of hard seltzer in the on-premise market. We analyzed Backbar user data to see how products and products were performing based on inventory numbers and which products restaurants and brands had in stock. When we looked at the numbers, a few brands had made strong gains to cut into the market share away of seltzer's frontrunner, White Claw Hard Seltzer.

Those brands included Truly and High Noon, along with a few other big name products like Bud Light Seltzer. The growth shown by these brands highlighted the space and opportunity for brands to capitalize on the interest in the ready-to-drink space.
And that space includes canned and ready-to-drink products outside hard seltzer. So our data team at Backbar took a look at the entire ready-to-drink category to see what Backbar users keep in stock and which brands have the opportunity for continued growth.
The most popular RTD products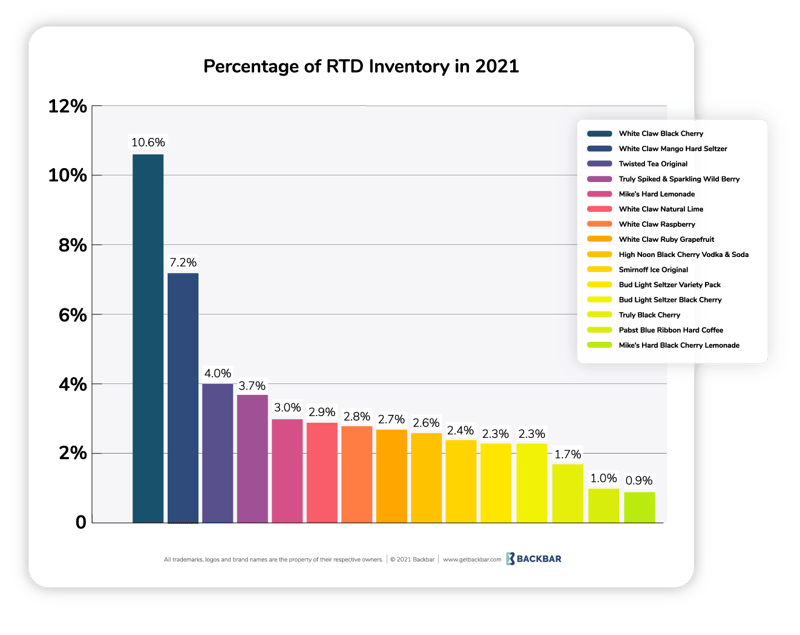 When we took a look at the what the most commonly stocked ready-to-drink products in Backbar are, we saw a few surprises.
Four of the top ten products are non-seltzer drinks
In a repeat of what we saw in our hard seltzer data, White Claw controlled the top ten products list, accounting for five of the top ten products, including holding down the top two product spots.
But unexpectedly, four of the top ten product were non-hard seltzer products.
Those four are Twisted Tea Original (4%) taking the number three spot behind White Claw, followed by Mike's Hard Lemonade in the fifth spot (3%), then High Noon Black Cherry Vodka & Soda* (2.7%) and Smirnoff Ice Original (2.4%) at nine and ten respectively.
*High Noon products are marketed as hard seltzer products but the High Noon Black Cherry Vodka & Soda is labeled under "sun sips" and is categorized in the Vodka Speciality (COLA 643) while other hard seltzers are categorized as Malt Beverage Specialities (906) by the TTB. So for our purposes separated them from the standard "hard seltzer" segment.
"Legacy" brands still going strong
Twisted Tea, Mike's Hard Lemonade, and Smirnoff Ice Original were all a slight surprise to see landing spots in the top ten ready-to-drink products. Or so we thought at first glance. But it makes sense that good products with strong brand recognition would have longevity.
All three brands were launched 20+ years ago, and it was a good reminder of a few truths.
One being that the products grabbing headlines in media coverage aren't always the same products grabbing shelf space and consumer dollars at the point-of sale.


Secondly, most trends are cyclical, and we've seen ready-to-drink mixes become extremely popular, in the past. The seltzer craze is just the most recent iteration.


Thirdly, the excitement of "icing" unsuspecting friends with Smirnoff Ice will never die.
Canned cocktails growing in restaurants and bars in 2022
The big boom for hard seltzer and the ready-to-drink category began in 2019 and may have peaked in 2020 with liquor stores and retail shops that benefitted from restaurant shutdowns and restrictions due to the Covid-19 pandemic.
Seltzer brands have seen growing success in the on-premise space, mostly thanks to White Claw and the strong gains by Truly and Hard Seltzers in the first two quarters of 2021.
It's no surprise then that the hard seltzers and canned cocktails have seen their biggest growth in the off-premise or retail segment of the alcohol market. While hard seltzer has been growing in the bars and restaurants for the past few years according to Backbar data, prepared cocktails are starting to see growth too.
For Backbar users, prepared cocktails now make up 19.1% of products classified as ready-to-drink beverages. That percentage is the total number of products our users carry in inventory.
So far in 2021, prepared cocktails have enjoyed an 8% growth from the 2020 total of 11%. In 2019, prepared cocktails accounted for just over 14% of ready-to-drink inventory in Backbar. That should continue to grow.
An article in May of 2021 from CNBC cites a Bank of America report that notes that canned cocktails is a relatively small segment that makes up only 3% of spirits volume in the U.S. But, as beverage producers are clearly aware, "[r]eady-to-drink cocktails is the fastest growing alcohol category."
Which new products will make a splash
The success of hard seltzer has introduced more and more drinkers to canned and ready-to-drink products (that aren't beer). With seltzers being marketed as low calorie options, or made with real fruit juice, and having a generally refreshing quality, they've helped shake off the image of pre-made drinks as sugary, unhealthy choices.
Hard seltzer has become an ambassador for the ready-to-drink category that can lead consumers to new products like canned cocktails. That's what drink producers are hoping for judging by their investments.
Acquisitions and new releases
The belief in the canned cocktails as the next boom is apparent with big players acquiring small producers and creating their own cocktail lines. In 2019, Anheuser-Busch InBev acquired Cutwater Spirits, probably the most notable purchase. They continue to push out new products. Jack Daniels has a line of canned cocktails. Jim Beam, too.
Smaller producers, like the spirits branch of Oregon brewery Rogue have been producing canned cocktails since 2019.
In Backbar, our users have canned cocktails and seltzers from breweries like New Belgium Brewing, Boulevard Brewing, and Kona.
Drink producers of all sizes are getting in on the canned cocktail and seltzer boom. But will it have to stop soon?
If the seltzer and ready-to-drink market becomes overcrowded, new brands will likely get washed out. The market is already top heavy, and if new producers can't get traction, the number of entries in the market should drop, leaving the biggest producers making the biggest market gains in 2022.