Implementing happy hour ideas and strategies in bars is a tried and tested way for bar owners to attract customers and increase sales. These strategies are implemented to increase sales and should be specific to your bar's needs. They should aim to increase sales and traffic during traditionally slow hours when business is down.
Happy hour bar ideas can be defined as marketing strategies used to bring in more customers by offering them discounted prices or something extra when they buy a drink at certain times of your operational hours. This is one of the ways bars can increase sales during their slow months.
Even though a good happy hour strategy can bring in a lot of sales and profits, it is important to note that you need to be careful about the percentage of discounts that you will be offering.
This is because if you do not calculate the discounts well, you might end up making a lot of sales with little or no profit at all.
This is where smart bar owners beat their competitors. They have come up with amazing happy hour ideas for their bar business growth. Let's look at some happy hour ideas to implement in your bar.
Themed Happy Hours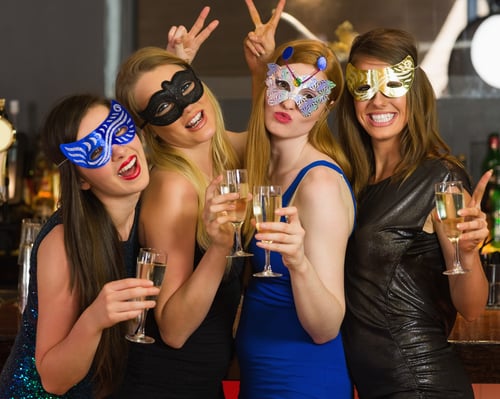 Creating themes for the happy hours in your bar is one of the best ways of creating a community for the bar. When considering this idea, you need to first evaluate everything that you know about your current customers. This might involve things such as getting to know the teams that they support and the type of shows that they like.
If you find it difficult to get this information, you can log into your bar's social media profiles and have a look at the profiles of the people who follow the bar. This should give you an idea of what the customers like.
After that, look for some of the best happy hour themes for bars and choose the one that would match what your customers like. This is important in ensuring that you will have most of the customers participating.
Examples of things you can do include having "twin events" where you have two people dressing alike to get certain drinks at discounted prices or even for free. You can even ask the customers to wear a certain team's jersey for them to get a list of exclusive cocktails for 50% off.
Host a Painting Night
This is one of the most interesting happy hour ideas you can have for your bar. It will require you to purchase several things when starting. These might include:


Cotton paper - used for watercolor painting.

Several brushes - this is a one-time investment.

Glasses - to be used when cleaning the painting brushes.

A palette of paint - this should be watercolor paint.
If you were to calculate the amount of money you would need to get started with hosting a paint night in your bar, it would not be more than two hundred dollars for at least thirty participants every day.
Now, when it comes to the paint night, get a theme and let your customers' paints portray the colors of the theme you have for that particular night. If you have thirty participants, with each buying two drinks at five dollars each, you are going to make $300 that night alone. You will get the money you spent on the equipment back.
You can reward the winners of the paint night with free drinks. The next happy hour night will reuse some of the painting equipment above such as the brushes and might bring in more customers.
Offer Drinks at Half Prices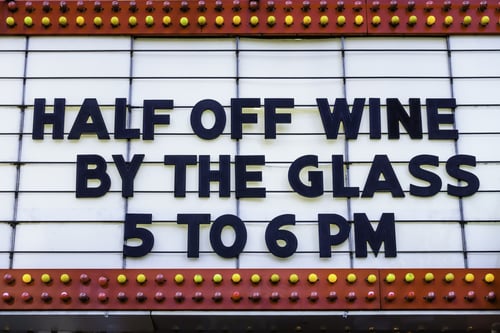 Most bar owners might not be happy with offering drinks at half prices, but this is a happy hour idea that sells. However, not every drink should be offered at half price.
The first thing for bar owners to do before implementing this idea is to get a list of the drinks that sell and those that do not sell in the bar. After that, they need to decide which drinks can be offered at half the price.
Since the main aim of having a happy hour is to increase bar sales, you need to consider the drinks that do not sell. If these drinks cost about five dollars, consider selling them at three dollars.
You can advertise happy hours on your social media profiles. Also, ensure that the happy hour does not last for a long time - a maximum of one to two hours is enough.
Meet The Brewer Happy Hours
This can be seen as a marketing as well as a happy hour idea for bars. This involves the bar owner talking to a local brewer and hosting them in the bar for an hour or two.
When the brewer comes, they can talk about how they make their beers, what makes their beers better than others, and try to convince your customers to take that particular beer.
But what do the customers stand to gain? Well, the particular beer should be offered at discounted prices. This will compel a bigger percentage of your customers to try this beer due to the low pricing and the fact that they are interacting with the person who brewed it.
Conclusion


A business cannot succeed when it makes losses or does not stand competition from other businesses. As a bar owner, you need to look at the different avenues, among them, implementing happy hour strategies, through which you can attract customers and boost your sales. Implementing some or all of the ideas above will, without any doubt, improve the performance of your bar business.