These are trying times for restaurants. With so much uncertainty surrounding the length of quarantine, shelter-in-place orders, and locally mandated business closures, restaurant workers and operators are truly fighting their livelihoods. Restaurants need to find creative ways to market their business to customers and generate business.
For many restaurants, the only remaining revenue source is food orders for delivery and pick-up. If you're still working and operating a restaurant, then you know it's so important to let your neighbors, patrons, and customers know that you're still open for delivery.
Social Media Posts Reach The Right People at the Right Cost
If your restaurant already has a Facebook or Instagram page with followers then this is the best place to start your marketing. Let your followers know you're providing delivery and pickup options for food and that they can still patronize your restaurant.
Posting updates from your social media accounts will let your followers know that you're an option for breakfast, dinner, or lunch. Your followers are the people who are most interested in supporting your business, so spend your restaurant marketing time speaking directly to your biggest supports.
Don't spend money on Pay-Per-Click (PPC) Advertising
Right now, restaurant's need to cut as many expenses as possible. Which is means paid online marketing strategies like Facebook ads or Google Adwords are something to avoid spending on.
2. Promote Gift Card Purchasing
People can't dine out at restaurants right now, but one of the best way to support restaurants is buy purchasing a gift card to a restaurant.
Promote gift cards on social media channels to encourage people to buy them for a future visit. You can even run special promotions for gift cards like the following:
1. Add 20% of the initial gift card purchase to the gift card as a bonus for purchasing by a certain date. So if someone buys a $100 gift card, add an additional $20 onto the card if they purchase the card by a specific deadline.


2. Run a special promotion with a gift card purchase of donating a percentage of the purchase to local industries who are still working and helping manage the coronavirus crisis like this restaurant did.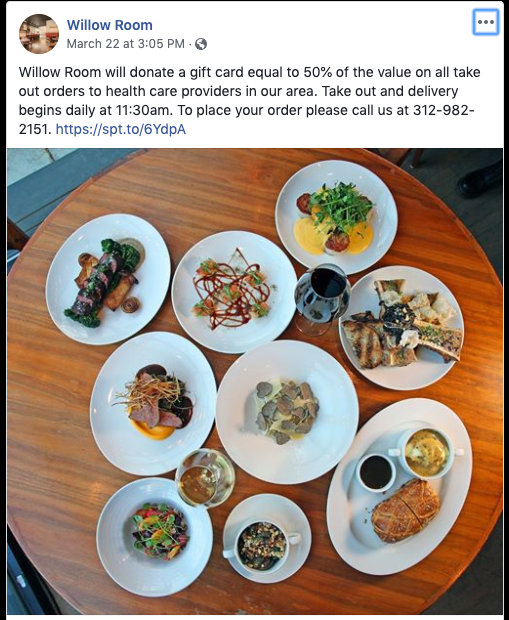 3. Offer discounts to health care workers and health care areas
Offering discounts to local hospitals, clinics, drive-through testing sites and to retail stores like super markets, or if you have an Amazon warehouse locally, promote discounts for bulk orders for to feed workers.
These workers are taking risks each day by continuing to work and each day.
4. Create New Offerings and Serving Styles
One way to help reach potential customers is to re-think how you're selling food. One great way is to create options that appeal to customers who are stuck at home.
Add family style meal options to your menu

This is a great way to appeal to families looking to order in food for a night while stuck at home.

Sell Unprepared Food


Provide canned foods or unprepared ingredients that you can package into meal kits for meals like soups. Selling pantry staples like beans, rice, or potatoes can help provide food to people in need who may not be able to get to a store to buy food.
5. Run Referral Promotions For Social Media Shares
Utilize your social media network to help promote your business to their friends, family, and followers. Create a promotion that entices people to share social media posts from your restaurant by offering discounts for referring customers who order from your restaurant.