We won't sugarcoat it for you. Being a restaurant manager is like having 8 jobs in one.
Managers have to track the restaurant's finances, oversee all restaurant operations, act as the intermediary between guests and employees, and manage scheduling for the entire staff. Essentially, you're putting out figurative (maybe even literal) fires every single day.
Why would anyone want to do a job like this?
It certainly takes a special individual. In order to make it as a restaurant manager, you have to have a true passion for leadership and customer service. We will discuss all the skills and duties involved in order to become a great restaurant manager.
3 Essential Skills of a Restaurant Manager
According to the National Restaurant Association (NRA), 9 out of 10 restaurant managers started off in entry level positions. So if you're new to the industry, it's going to take some time to work your way up. You may be serving or bussing tables for a few years before you land a management position.
Why do you have to start from the bottom to get to the top? Well, you can't effectively manage your FOH and BOH employees if you don't know what it's like to do their job. Previous industry experience helps you set realistic work expectations, and manage your team effectively.
By working different industry positions, you will gain the three essential skills for becoming a great restaurant manager.
1. Food and Beverage Knowledge
A great manager will be able to tell a guest the best wine pairings with the dish they just ordered, know the allergens present in every menu item, and be able to explain the tasting notes of the new beer on tap.
Managers need to know the menu inside and out because not only will they be fielding questions from guests, they're also going to be jumping on the floor now and then (yes, even once you're a manager, you'll still be waiting on tables occasionally. It's part of the gig).
Luckily for you, Backbar Academy is full of great resources for anyone looking to brush up on their food and beverage knowledge before hitting the floor.
2. Soft Skills
Aside from knowing how to shake a cocktail or clear dirty plates, managers must possess soft skills. Hot heads need not apply—having the ability to charm guests and de-escalate tense situations is what sets apart a good manager from a bad one.
As much as you may want to snap at a rude guest, part of being a manager is never letting down your facade. You're here to provide unparalleled customer service for everyone (even the cranky ones). When you're on the floor, always lead with kindness and tact.
However, feel free to scream in the walk-in cooler later.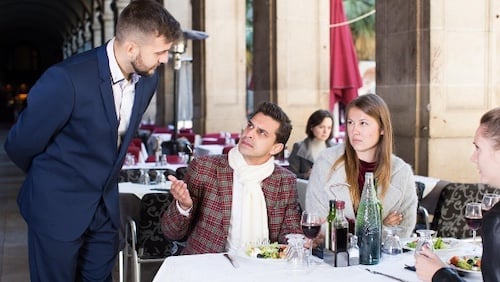 3. Time Management and Multitasking
Oh boy, here comes the dinner rush. The kitchen is backed up with food tickets, bussers are scrambling to clear dirty tables...and the dishwasher behind the bar just broke.
When there's so many fires happening at once, which one do you put out first?
Every day in the service industry is different. A skilled restaurant manager knows exactly how to delegate tasks and tackle problems that pop up throughout the day. Over time, it becomes intuitive.
Some days are easy, but most of the time, you're going to be scrambling for quick solutions. Being adaptable and knowing how to prioritize your time will keep your restaurant running smoothly.
Typical Duties of a Restaurant Manager
As a manager, you're always going to be the first in, and last out. It's up to you to make sure everything is ready to go before service begins, and once service ends.
Duties will vary based on the demands of the restaurant or bar you're working for, but in general, these are the standard opening/closing duties you can expect:
Manager Opening Checklist:
Turn on all lights

Make sure equipment is on and functioning (ice machines, coolers, etc)

Conduct inventory and ensure you have an adequate amount of supplies

to get through the day

Make sure money in the safe is accurate

Count out the bank for registers

Check any reservations for the day

Reply to any emails or voicemails

Make sure tables and chairs are properly laid out

Ensure that all staff has arrived on time and clocked in

Oversee opening duties for FOH and BOH staff

Ensure closing duties were properly completed the night before
Manager Closing Checklist:
Make sure all staff is properly clocked in and out

Make any outstanding voids or comps

Check sales reports on the POS system

Ensure that cash drawers match with POS data

Count out cash drawers and store money in a safe place

Complete any necessary paperwork or ordering needs

Draw up staff schedules for the week

Do payroll

Ensure FOH and BOH has completed their respective closing duties

Make sure all lights are turned off and the building is locked
How to Be Successful as a Restaurant Manager
There's an old adage that says "people don't quit jobs, they quit managers." Particularly in the restaurant industry, this statement rings true.
Your managerial style can have a trickle down effect on your staff. Good management often leads to happier employees and high retention, whereas shoddy management leads to poor employee performance and higher turnover rates.
Restaurant jobs are plentiful—your staff can easily move on and find work elsewhere. If you put in the effort to foster a healthy work environment, you're only going to strengthen your staff and build a stronger team.
Have Some Ground Rules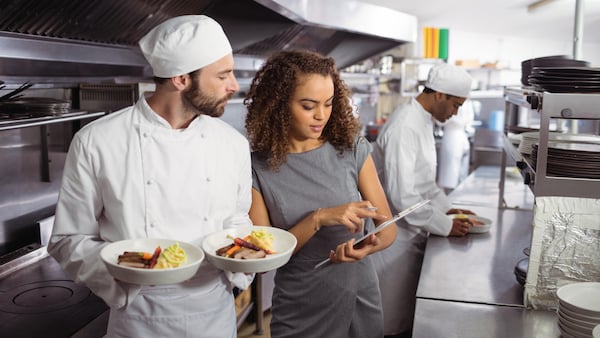 As a manager, you're both the good cop and the bad cop. It's your job to hire, train, and sometimes fire your employees.
Nobody wants to fire employees, but we have a little secret for you; the best way to avoid firing employees is to hire smart, and train/onboard them correctly the first time. Starting off on the right foot and giving your new employees a strong foundation will likely make them a long lasting hire.
But once your employees are trained, it's entirely up to you to maintain your staff and keep them sharp. While you don't want to be overly strict or micro-manage your employees, having a set of rules and following standards of service is necessary for running a strong team.
Foster a Healthy Work Environment
When your staff is happy, you'll probably be happy too. That's why it's so important for you to curate a positive, healthy work environment. Positive reinforcement goes a long way, and it's going to save you some headaches.
Here are some great ways to show your staff your appreciation:
Offer incentive. When employees hit sales goals or go above and beyond, reward them with a free meal or a gift card.
Promote a work-life balance. It will never be perfect, but try to adhere to everyone's scheduling needs. They'll appreciate it.
Reward retention. When an employee hits certain milestones (6 months, 1 year, etc.) reward them with (you guessed it) a free meal or some cash.
Be a listening ear. Try to be human. This is a difficult job, and sometimes your staff just needs a mentor or someone to vent to. As a manager, you're technically part therapist too.
Discipline negative behavior. Restaurants can be a stressful environment, but it's no excuse for bad behavior. Mediate disagreements between staff, and take a firm stance on discipline when it's necessary.
Plan field trips. It doesn't always have to be work. Taking your staff on a field trip to a brewery or a winery is a great way to increase their beverage knowledge, while having fun too.
Restaurant Manager Survival Manual
On top of everything we mentioned above, did we also tell you that you're probably going to be working 50-60 hours a week?

Restaurant manager burnout is real. Although we've discussed the need for you to take care of your employees and guests, there's an even greater need for you to take care of yourself.
Take some of the burden off of yourself by using technology to make your job easier. Staff scheduling and inventory can be two of the greatest time sucks—luckily, there are some easy fixes.
A staff scheduling software can practically automate the process for you, and make it easier to keep track of time off requests, staff preferences, and more. Doing it by hand is tricky and error prone, so you'll thank yourself for this later.
Meanwhile, Backbar can help you with your inventory needs. Especially for a new manager, taking inventory can seem like an impossible task. We make it easier for you by keeping your vendors all in one place, offering inventory reports, and reminding you to place your orders.
With a little help from technology, you can find yourself spending less time in the office, and more time on the floor with your staff. Trust us, they'll be grateful.
Key Points to Remember:
You need years of industry experience to work your way up
Soft skills and leadership qualities are essential for great management
A successful manager takes care of their staff
Restaurant managers need to take care of themselves, too