Covid-19 has battered the restaurant industry and its employees, leaving restaurant operators scrambling to find innovative ways to survive. A grim forecast from Open Table predicts that 25% of restaurants in the U.S. won't reopen once the pandemic subsides.
For restaurants that do re-open, strict guidelines have been introduced that include reducing capacity, socially distancing tables, and eliminating shared objects like the reused menus.
Operators must now find alternatives to paper menus. Guest will now get familiar with QR codes for restaurant menus. QR codes for menu generation, iPad menus, and digital signage, make up the leading replacements for traditional restaurant menus.
How QR Codes Work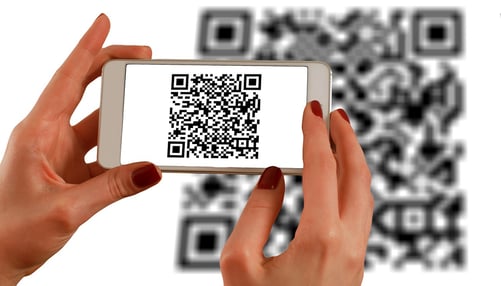 A QR code (Quick Response code) is a type of barcode that stores data and can be scanned by smartphone cameras to give users additional information or direct them to other content like a web page.
QR codes were invented in 1994 and haven't really caught on in the U.S. In the States, they've been used most prevalently in marketing as a way to drive audience interaction and track marketing campaign performance. But they have a reputation as being ineffective and shunned by American consumers.
On the flip side, QR codes are a staple in China, especially in restaurants. The codes are used to take payments, view menus, order food, and boost social engagement through platforms like WeChat.
QR codes are also used in employee training and in education as a way to provide more information with people. They're a simple way to streamline the sharing of information.
QR Codes for Menus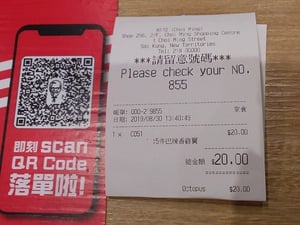 With sanitation becoming even more important in restaurants than ever before, QR codes are a way to increase guest safety by reducing the need to reuse menus.
By cutting back on menu reuse, it will limit the number of shared objects that are touched and passed along from guest to guest.
How Guests use QR Codes at Restaurants
When a guest is seated, instead being handed a menu, they will scan a code with their phones to open up a digital version of the menu on their device. Guests can then browse through menu options as they normally would before they place orders.
Operators will have to define the menu experience they want to provide to guests. The simplest option is to host a pdf version of a menu online and direct guest to it.
But the digital menu experience will be something that operators must consider moving forward, as it will become a more integral part of the guest experience they provide.
Digital menu display gives restaurant operators more flexibility when it comes to sharing information and connecting with guests. With more space and flexibility, restaurants should look to better engage guests through the menu.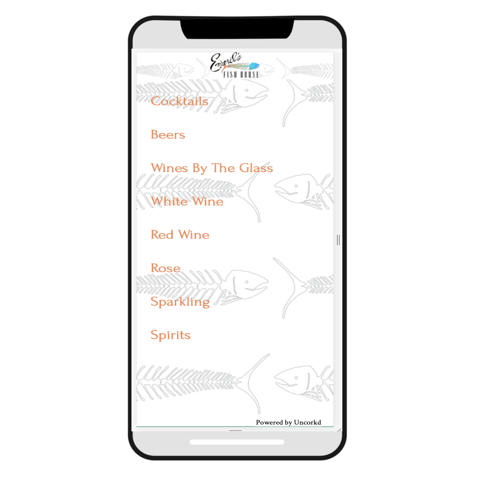 The image to the left is the mobile menu displayed by digital menu company Uncorkd. The iPad menu software also generates QR codes as part of its service. By provides tasting notes, producer information, and images within the menu, Uncorkd provides a more educational experience for customers.
To present QR codes to guests, restaurants can get creative.
One option is to display a QR code at each table. Restaurants could choose to leave a lamented QR code that can be sanitized between seatings for guests to scan.
Fast casual restaurants may want to display QR codes on walls, integrating large scale codes with murals or decor.
Restaurants may also want to swap out codes depending on the menus they want to display. Having separate QR codes for brunch menus and dinner, or for drink menus, gives diners the ability to browse menus without being overloaded with information.
QR codes also give restaurants the opportunity to connect with guests online.
Picture a customer who scans a QR code that takes them directly a restaurant's instagram or facebook page and prompts them to follow for updates. Or direct guests to a page to sign up with their email to receive newsletters and event announcements. These promotions can even be integrated into the menu to capture attention.
How to Create a QR Code for Menus
You might be asking how QR codes are created. It's a good question.
First, you need to pick a QR code generator. There are a lot of code generators like Kaywa or QR Code Monkey.
You could also go use a digital menu service like Uncorkd as mentioned above. With a menu service like Uncorkd, you also have the option of using a tablet-based menu for service which is easier to sanitize. Because Uncorkd generates a mobile version of your digital menu, you don't have to manage your online menu separately from other menus.
For the QR code to work, you will have to create a web version of your menu that is optimized for mobile use. Host your menu on your website as a web page and direct guests directly to the menu page when they scan the code.
Take Advantage of New Opportunities
Though the outlook is bleak for the restaurant industry, there is the silver lining of innovation that comes from crisis.
Restaurant operators will need to look forward and adapt to shifting customer concerns by finding ways to provide hospitality in a new environment that promotes isolation and sterility.
Finding ways to make guests feel safe is now a top priority for restaurant operators. There are a lot of eager people who want find normalcy through dining and drinking out; using smart, safe strategies to serve guests is the best path to recovery.