Here's a quick question: What is the most important part of the restaurant business?
The answer is customer service.
But customer service is more than greeting guests with a friendly smile and giving them a doggie bag with a thank you when they leave.
One of the most important but overlooked aspects of customer service is understanding your customers. To understand your customer, you have to run target market analysis for your restaurant or bar.
If that sounds like something that Fortune 500 companies are concerned with, well, you're right. But it's just as important for a restaurant to analyze their target market. No matter the size or scale of a business, understanding your customers is one key to success.
Let's explore how to uncover your ideal customer with target market analysis.
What is target market analysis?
Your target market is the subset of people who your product most appeals to. It's important to understand this subset because they will be the core of your business.
You might think of this group of people as repeat customers. It's important to understand repeat customers because it will help you identify what characteristics they share with one another and what it is that you offer that attracts these loyal customers.
Target market analysis is the process of learning these characteristics.
Here are some common metrics used for demographic information:
Age
Income
Location
Family status
There is also important information to be found about lifestyle preferences:
Drink preferences
Dietary and eating habits
Hobbies
Ambience and decor preference
Social media activity
Another element of market analysis relates to where your bar or restaurant is located:
Other businesses in your area
Accessible for and volume of foot traffic
Other bars and restaurants near you
Accessibility from highways and interstates
Relation to business, shopping, or entertainment district
Business operations of direct bar and restaurant competition
Market analysis is also a big piece of planning when opening a new bar or restaurant concept. Here is some additional information you'll need to research before opening a new venue.
Real estate prices
Costs of lease vs. ownership of venue
Local real estate and business developments
Researching your target market, and the market you operate in at large, will help determine marketing strategies and how to present yourself to appeal to your ideal customers.
How to find market information
Running market analysis for your restaurant relies on a lot of research. It can be an a lot of work at first, but it's worth it.
For finding demographic information about your area there are a number of tools to find out high level information. But it can be more difficult for a small business to find very specific information.
Demographic Information Resources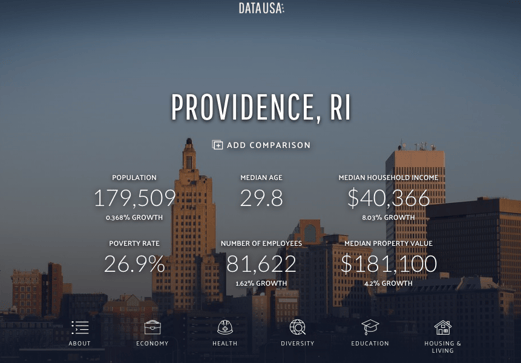 This site is a great resource for finding out demographic information like population statistics, median age and household income.
You can also find data on education, housing, diversity, and economic details.
Just search your city or town to find out important demographic information.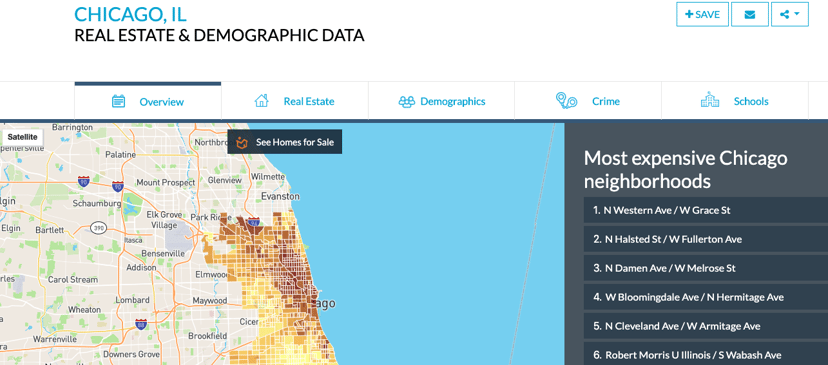 This is a great site to find out real estate information. This would be especially helpful for restaurant and bar owners who are looking to invest in property for a new concept.
One of the benefits is being able to dive deeper into specific neighborhoods of a city or town.
The one downside is that to unlock full reports to see all the information available it requires a subscription that starts at $39.99 per month.
You can still get a good snapshot of demographic data from their neighborhood summaries.
Finding Local Market Information
Chamber of Commerce
One of the best ways to better understand your local business community is by joining your local chamber of commerce.
By joining your chamber of commerce you will get consultations on strategic business practices, neighborhood trends, networking opportunities with local business that can open up marketing and partnership opportunities.
You may also get advanced notice of any major changes to the neighborhood like real estate or business development that can impact your business.
Field Research
If you're looking to get insights and information on your local restaurant or bar competition, there is no better strategy that actually going in and visiting these businesses.
You'll get a sense of service style, ambience, pricing, products served, as well as insights into customer demographics, menu design, and how your concept relates to theirs.
Learning About Your Customers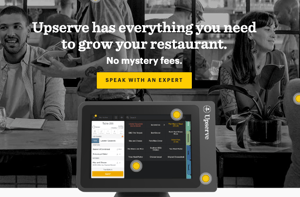 Point of Sale systems for restaurants have significantly advanced in the past few years. One provider is Upserve.
POS systems like Upserve provide detailed information about guest visits like time of day and week that guests visited, identifying new customers and repeat business.
You can also get important sales information like menu analytics that track which items product the highest volume of food sales so you can better understand which items your customers are interested in and ordering.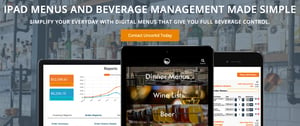 Uncorkd is a digital menu provider for wine and beverage programs. One of the benefits of Uncorkd's iPad-based menus is that you can track which items your customers are tapping into in the menu app.
This gives you a great indication of customer interests outside of just sales reports. Know this information can help you build out your beverage program to appeal to customer interest.
Surveys
The best way to find out information about your customers is to ask them yourself in the form of a survey.
Ask customers about their experiences dining at your restaurant. What were their likes and dislikes? How did they feel about the ambience, the music, what dish was their favorite?
This information will help you understand what customers most enjoy or dislike about your restaurant.
A tried and true method of customer survey's is to put a survey in the check presenter when a guest is finishing their meal. A great way to entice customers to fill out the survey is to offer a coupon or discount at your restaurant for answering the survey.
You could require they submit an email address in order to receive the coupon and opt into an email newsletter if you have one.
Why market analysis is important for restaurants
Performing detailed research for market analysis will help you understand how to reach your target customers through marketing.
You can find out what interests they have, what they enjoy most about your restaurant, as well as the price points they're comfortable paying for items.
Take social media for example, which is a big element and often a cost effective way for restaurants to market to potential customers.
Say you've find out that your target customer base is aged from 25-35, they enjoy craft cocktails, are active on instagram. You can take that information and put a focus on instagram marketing promoting new cocktails with beautifully staged photos that will reach your target customers and also highlight their interests.
Knowing your business
It will also give you a better understanding of your own business and give you more data to make positive choices that have a healthy impact on your restaurant's bottom line.
By knowing your customers dietary preferences and income, you could make more informed decisions on the type of good and quality of ingredients that you can serve.
You may find out that your customer's prefer farm-to-table style menus and their income allows you to source higher quality ingredients and charge a premium price that is affordable for your customer base.