Once, during a busy Friday night a bar in Chicago, a recently hired server returned a glass of White Zinfandel to the bartender. The wine, a blush pink color, wavered in the glass as the server set it back on the service well. It was clearly untouched.
The server, annoyed and slightly combative, barked out to the bartender, "Hey! I ordered a WHITE Zinfandel, I need a new glass!" This is why wine training is important. Because, of course, White Zinfandel isn't actually white. It's slightly pink, like a rosé. It's essential for servers to have basic wine knowledge when dealing with customers to avoid mistakes like this and much worse.
This story is true and silly, but things just like this happen in bars and restaurants all the time. It's why servers need wine training. Here are a few areas that need to be covered for basic wine training 101.
What's the purpose of wine 101?
Learning about wine can be intimidating. The depth of wine history and tradition could fill books large enough to make George R.R. Martin sweat and opt for an Audible subscription.
So our goal is to provide an outline of important information that new servers and wine novices can focus on to learn wine basics when training for their restaurants.
Think of this blog post as map to navigate your wine journey. Once you know the basics, you'll begin to learn more about which wines, countries, and styles interest you. Then you can follow those interests until you've become a wine expert. Maybe even a sommelier.
Where to start with wine training
For servers or bartenders first learning about wines, the best place to start is with the most popular wines. Remember, the first goal is to be able to confidently speak about wine with customers in order to sell it to them.
So focusing on popular varietals is a great way to hedge your bets and begin putting your new wine knowledge into practice at your restaurant. A great way to make this practice more relevant to you is to take a look at the varietals or wine styles on your wine by-the-glass list and really get to know them.
---
---
What are the most popular wines?
To start, let's take a look at the most popular wine varietals according to menu data from Uncorkd digital menus. This graph pulls data from the digital menu provider by tracking each time a customer clicks on an item.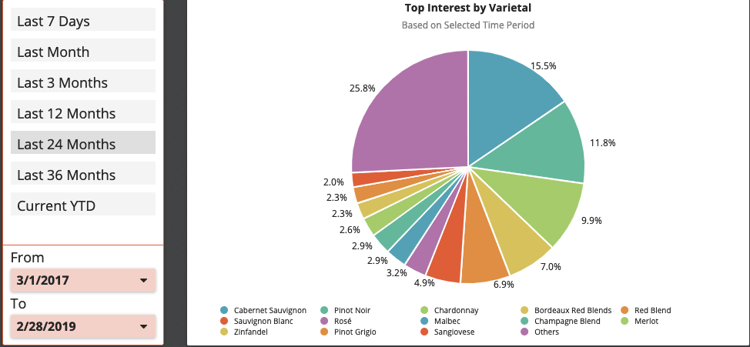 Let's ignore the big purple piece of the pie which is compiled of "others." For this exercise, we will give a brief description of each varietal. But remember, these descriptions are general, and these grapes will have differences between bottles, producers, and particularly, differences that come from where they are grown
Top red wine varietals + tasting notes
Cabernet Sauvignon
Tasting Notes: Dark, ripe fruits, black cherry, plum, spice, vanilla, cedar or oak from barrel-aging
Body: Heavy
Notable Growing Regions: Grown in every wine producing country, well known styles from California, France (Bordeaux)
Food Pairing: Grilled meats, roasted meats- beef, lamb
Pinot Noir
Tasting notes: Red fruits, bright cherries, strawberry, some spice, vanilla,
Body: Light
Notable Growing Regions: France (Burgundy), California, Oregon, Australia (Yarra Valley), New Zealand (Otago Valley), Italy (Northern)
Food Pairings: Light, flavorful meats - duck, pork, chicken thighs; mushrooms; salmon and heavy flavored fish
Bordeaux Red Blends (Meritage)*
*Mimic the style of Bordeaux reds from the Bordeaux region of France. This blend is generally dominated by Cabernet Sauvignon, but also utilize other grapes like Cab Franc, Merlot, Malbec
Tasting Notes: Big, bold, dark fruits,; savory flavors; mineral flavors; tannic (drying); cedar, oak, vanilla
Body: Heavy
Notable Growing Regions: Produced through out the world, notable from California, Chile, similar to Bordeaux blends from France
Food Pairings: Smoked meats, roasted meats; lamb; firm cheese
Malbec
Tasting Notes: Dark berry, cherry, black pepper spice, cocoa, wet earth
Body: Medium
Notable Growing Regions: Argentina (Mendoza), France
Food Pairings: Pasta, Barbecue or grilled meats, spicy food
Merlot
Tasting Notes: Raspberries, strawberries, mineral, cedar
Body: Medium
Notable Growing Regions: France (Bordeaux), Washington, California, Italy (Tuscany), Australia (South Australia)
Food Pairings: Many foods from chicken and pork to dark meats
Top white wine varietals + tasting notes
Chardonnay
Tasting Notes: Wide range depending on stye; lemon, apple, pear, bright fruits; mango, pineapple, peach, tropical fruits; vanilla, butter, baked goods, coconut
Body: Medium
Notable Growing Regions: France (Chablis, Burgundy), Italy, California, New York, Australia (South Australia)
Food Pairings: Fish, lightly seasoned chicken, soft cheeses
Sauvignon Blanc
Tasting Notes: Green fruits, lime, green bell pepper, pear; stonefruit, kiwi, peach; oaked, vanilla, coconut, butter
Body: Medium to Medium-heavy
Notable Growing Regions: France (Bordeaux, Loire Valley), Italy (Northeast), New Zealand (Marlbourough, Hawkes Bay), California, Chile
Food Pairings: White meats, chicken, pork; white fish, shell fish, lobster, clams; soft, sour cheese
Pinot Grigio/Pinot Gris*
*The same grape, called Pinot Grigio in Italy, Pinot Gris in France
Tasting Notes: Italian, lime, pear, sour apple; France, lemon, honey, honeysuckle; U.S., white nectarine, ripe stonefruits
Body: Medium to Medium-heavy
Notable Growing Regions: Italy, France, U.S.
Food Pairings: Fresh fish, green salads, shell fish
Rosé
Tasting Notes: Varying styles; Light, rose petal, underripe strawberry, limestone; Medium, strawberry, summer fruits; Heavy, ripe fruits, floral, spice hints
Body: Light to Medium-heavy
Notable Growing Regions: France, Spain, California, Italy
Food Pairings: Dependent on style anything from light salads to barbecued meats
7 basic wine taste descriptors to know
In the above descriptors, we used a good number of references to actual items like strawberry, lime, red cherry, cedar, etc. to underscore what types of flavors a drinker can expect in their wine.
As you become more comfortable with wines, you will be able to pick these flavors our for yourself and then use them when selling wine to guests, but to start here are 5 basic wine descriptors to know.
These terms are generally what customers are looking for when describing a wine:
Dry: This is pretty self explanatory. A dry wine will leave your tongue tingling, with the feeling of cotton mouth. Dryness, and the sensation of a tingling tongue, often comes from an organic substance in wine called tannins.


Sweet: This term is more useful for dessert wines or cheap wines. It's a bit broad, more often than sweet, you will want to use the following term.


Fruity: Red wines will can be generally categorized as having red fruits or dark fruits. White wines will generally have green, or tart fruits, or tropical and stone fruits if they are sweeter and more rounded wines


Buttery: Used to describe Chardonnays that are aged in oak barrels, a style generally associated with California-style Chardonnay wines


Earthy: Generally reserved for red wines. Earth implies a certain mustiness. Think of damp, musky flavors.


Mineral: Slate, stoney flavors, often in Sauvignon Blanc or Pinot Gris.


Body: This refers to the weight of the wine. Also used in conjunction with mouthfeel.


Simple tips for pairing wines with food

Use this chart to as a key to unlock the pleasures of a perfect food and wine pairing!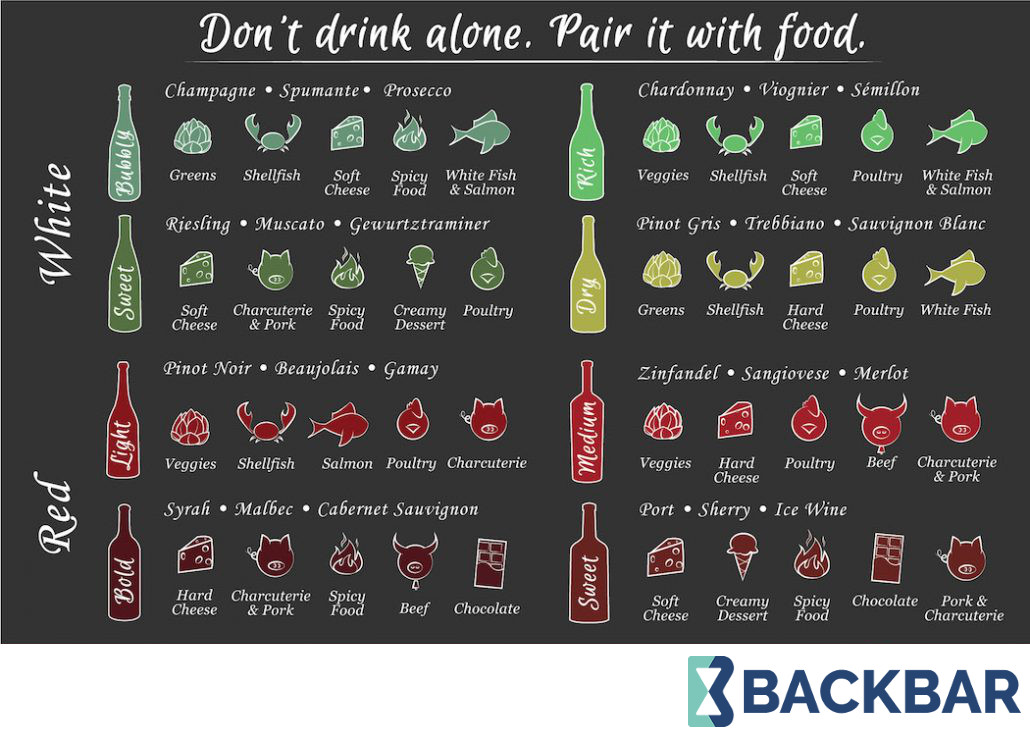 Great wine resources
The Wine Bible by Karen MacNeil: Super informative and easy to read. This will get you much more than a foundational knowledge of wine. You'll have a two-story home, driveway, and nice backyard worth of wine knowledge after reading this book.
Wine Basics - A Beginner's Guide to Drinking Wine - Wine Folly: A wonderful site full of great information that continues to grow and expand its usefulness.
The Definitive Wine Training Guide - Uncorkd: Our guide for wine training in restaurants. An easy to read eBook that will get you ready to learn about the wine basics and make more money selling wine!