While patio season is looking a little different this year, that doesn't mean you can't pull out all the stops for your guests. As restaurant goers are more interested in socially distanced and safe dining, outdoor dining is becoming a more important for restaurants. Improving patio service for your restaurant can create a better experience for guests. here's some ideas for boosting your outdoor dining service.
Patio service is arguably the most neglected aspect of any restaurant—oftentimes, guests sit down already knowing they may have to wait longer than their indoor counterparts to get the attention of a server, or to get that refill they asked for 10 minutes ago.
Considering that most restaurants at the moment can only offer patio service, why not make it great? Now is the time to work out all the kinks, and to bring it up to par with your indoor service. Great patio service is an extension of your restaurant as a whole, and you should give it just as much attention as your indoor dining experience.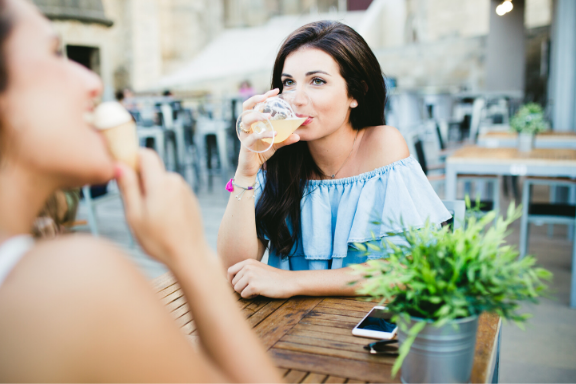 Make Your Patio Inviting
COVID-19 has created some limitations with patio service, and that can be a bit discouraging for anyone trying to create a welcoming vibe. With tables spaced 6 feet apart, and parties limited to 6 people or fewer, it can feel like you're fighting against the tides.
But we promise, if you provide an attractive, welcoming atmosphere, you can still ensure a memorable experience for your guests (even if they are separated by plexiglass and cloth masks). These tips will make your patio the envy of all the restaurants on the block.
1. Comfortable Seating
We've all sat on a patio that had uncomfortable chairs. And most likely, you were itching to leave as soon as you finished your first round of drinks. Who wants to sit on an uncomfortable chair for 1-2 hours?
If you haven't already, invest in a good set of comfortable, sturdy chairs. Does your patio have backless bar stools and picnic tables? Yikes. Our lower backs will thank you for replacing those with a more practical option.
Your guests are going to be sitting for the duration of their time, so ensuring that they want to stay seated (and keep ordering food and drinks) is only going to help you. In lieu of getting new chairs altogether, comfy seat cushions should do the trick for an old set of chairs.
2. Prepare for the Weather
Sitting on a patio always seems like a good idea in the summer, except 10 minutes into the meal you realize there's no shade. And it's hot. You're getting crispier than the chicken. Does this place serve sunscreen?
Guests want to enjoy the sun, but they also don't want to go home with a sunburn and mild heatstroke. This ties back to comfort—if your guests are uncomfortable, they won't stay for very long, and they'll remember your patio as a less than stellar experience.
A pergola or retractable awning is what will take your patio from feeling like a deserted island to an oasis. Guests can still enjoy the sun and the breeze, but when the sun begins to feel a little too intense, you've got them covered.
Don't have the time or money to invest in an awning? At the bare minimum, provide some umbrellas for your tables. Be as prepared as possible for wind, sun, and rain. Don't leave your guests to fight the elements alone!
3. Provide Good Lighting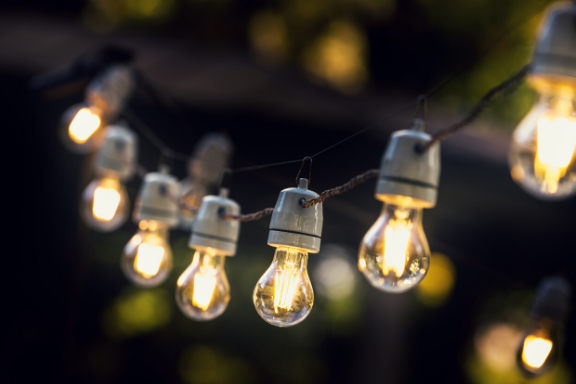 Ahh, the sun is setting, so you can finally retract that awning. Now it's all about the atmospheric lighting!
Nothing feels cozier than sitting under a canopy of lights when the sun goes down. Artfully placed string lights, lamps, or lanterns can liven up your outdoor space at night, and beckon your guests to stay even longer. And from a practical standpoint, your guests need to be able to see the menu after dark.
But don't just string up a few lights and call it a day; now is a good time to show off your creativity and flair for design! If you're stuck, here are a few cool lighting ideas to get you started.
Table Service
Be sure to keep in mind the new health and safety regulations when setting up your patio for service. Things you may have done to speed up service before COVID-19 (presets, table settings, self-serve food stations) are no longer permitted.
As a result, your table turnarounds will probably be a bit slower than usual, but that's okay. With the health and safety regulations in place, this is inevitable.
However, there are a few ways you can reduce ticket times, and lessen the heightened workload on your staff.
4. Food and Drink
You and your staff will be spending a lot of time decontaminating and sanitizing surfaces, so you need to make up for this lost time elsewhere.
Simplifying your food and drink menu is a great way to expedite service. If you haven't already, pre-batching some of your cocktails (for both dine-in and to-go) can be a huge time saver.
Pre-batching gives you more time and control over the drink making process, so you'll reduce the risk of exposing your staff or your guests to germs. Aside from the safety benefits, having at least a few bottled cocktails on your menu will drastically reduce your drink ticket times. Your guests can get their first round in seconds, rather than minutes.
Your guests will have to wait longer for their table to be ready, and that can be annoying for a hangry customer. It's in your best interest to get them their food ASAP. Cut your food menu down to the favorites, and make sure these are simple, executable dishes. Your serving staff will be grateful for the extra time.
5. Plan Ahead
With capacity restrictions, and restaurants not being able to use common areas like waiting rooms, you need to think ahead to provide seamless service.
To avoid long lines or frustrated guests waiting outside, it may be wise to implement a reservation only model for the time being. Stagger your reservation times to account for the additional time it will take to thoroughly clean and decontaminate your outdoor dining space.
Your staff will have more time to reset their tables (without guests hovering behind them like a hawk), and set themselves up for success.
6. Make Smart Changes
Among a million other things, a big issue restaurants are facing right now is how they should display their menus. To reduce the chance of spreading germs, tables can't have shared items, like condiments or menus.
Disposable menus are a solution, but this is a huge waste of time and money. Laminated menus still pose their own problems, as your servers will have to vigilantly wipe them down after every single use (which can be exhausting and time consuming).
More and more restaurants are opting for QR codes, which are the safest and easiest option, as they allow guests to access your menu right from their phone.
Luckily, Backbar can automatically generate a unique QR code for your restaurant. Don't worry if you are technologically inept, we've made it ridiculously easy.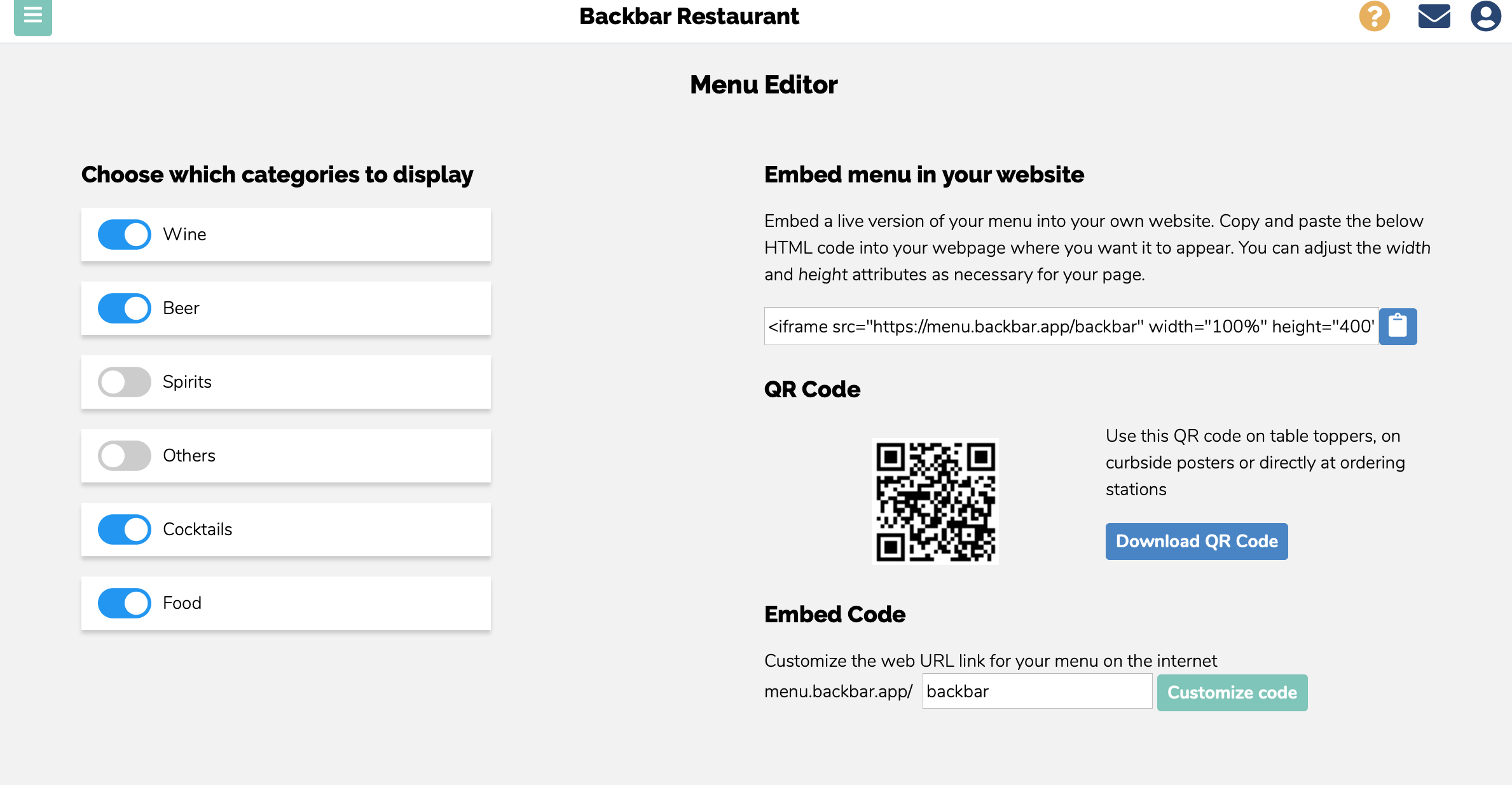 If you already use Backbar to track your inventory, then you don't have to do any extra leg work to get your QR code up and running. Everything you have in your inventory is already organized by category and ready to go. All you have to do is choose which items you do/do not want to be displayed on your menu.
There are two ways for you to display your menu online; Basic and Essential users of Backbar can copy a custom HTML code, which they can then directly paste onto their website. Professional plan users get a custom web URL, which they can customize with their bar or restaurant name.
QR codes allow you to update your menu in real time (so you can 86 those items in an instant) and you'll save a ton of time by keeping your menu and inventory all in one place.
We're offering a free trial so new users can see the benefits of using our subscription plan. Luckily for you, our Basic plan is free forever if you don't want to pay for additional helpful features. Good luck, and we hope to catch you on the patio soon!