If you don't use TikTok yet, you probably just know it as that video app where people do dances and challenges in front of their camera. Its omnipresent influence on pop culture both in the United States and globally cannot be ignored, however. Brands are using TikTok trends and dances in their commercials. Turn on the radio and every other song is one popularized by TikTok - the app itself now has its own Sirius XM station, dedicated to songs that are popular on the platform. It's launched ordinary people into overnight celebrity sensations and resurrected decade-old songs pushing bands like Abba, Fleetwood Mac, and Led Zeppelin back into the spotlight.
But did you know it can be a powerful marketing tool for your bar or restaurant? There are hundreds of establishments already on TikTok, creating viral videos that reach thousands of people, building their brand and converting viewers into customers. Don't know where to start? Exhausted at the thought of managing yet another social media account? Don't worry, we've got you covered. This guide will walk you everything you need to know to get your TikTok up and running.
The tick tock on TikTok
TikTok stats, as of September 2021
• 1 billion active users
• In Q1 of 2020, the app was downloaded 315 million times, the best quarter of any app, ever
• The average user opens the TikTok 8 times a day...
• ...And spends an average of 52 minutes per day on the app
TikTok is a social media, mobile-first video platform that exploded onto the scene in 2016. The app has seen incredible growth with a billion monthly active users and will continue to grow exponentially. For context, Facebook has 2.9 billion users, YouTube has 2.2 billion, and Instagram has 1.4 billion - all of which have been around for more than a decade now.
TikTok is an app you definitely should be promoting your bar or restaurant on, especially if you are marketing to a younger crowd - a whopping 80% of TikTok users are between the ages of 16-34! As of April 2021, 48% of U.S. adults aged 18-29 use TikTok. But more and more older people are joining the app too. 20% of U.S. adults between 30 and 49 are on TikTok, and that number continues to grow everyday.
The younger slant of TikTok is something your bar or restaurant can use to its advantage, especially with Gen Z's increasing purchasing power and the Millennial generation's consistent spending habits on food. In 2018, Gen Z made up a full quarter of all food service traffic, totaling 14.6 billion restaurant visits. Millennials report spending up to 44% of their food dollars on eating out.
Young people like to spend their time on TikTok and spend their money on food, so it's no question why you should start marketing your establishment on the app. One survey conducted by marketing agency MGH found some astonishing results. Based on 701 TikTok users:
36% of users went to a certain restaurant after viewing videos about it on the app
20% reported traveling to a different city just to go to a restaurant they saw on TikTok
45% stated that they would be willing to go to a different state to visit a restaurant
"What makes TikTok different? I already have a million other social accounts I have to run!"
You're right, but you should be on TikTok because:
• The TikTok algorithm makes it easier for people in your area to see your videos
• You don't need a ton of followers to get thousands of likes and views
• There's less competition for engagement as it's a newer app
The TikTok algorithm makes it easier for people in your area to see your videos
TikTok's algorithm is a recommendation system determines which videos users will see on their For You page. No two users will see the exact order or content on their For You page, and it even changes based on your current state of mind. The For You page is mostly based on your interests and personal preferences, but geographical location also comes into play. If you're from Chicago, for example, you'll probably see way more videos about activities, restaurants, and even other people from Chicago than someone from New York would.
This is great for your bar or restaurant as your main target is going to be diners in your immediate area.
You don't need a ton of followers to get thousands of likes and views
Another great thing about TikTok's algorithm is that it doesn't take into account the amount of followers one has or levels of previous engagement when showing videos on someone's For You page. You're just as likely to see a video with a million views as you are one with ten views. Good news for your new fledgling TikTok account.
When you post a video, it'll first get shown to a small group of users. Depending on its performance with the small group (ex. if they watched it all the way through, if they liked/commented on it, if they sent it to someone else), your video will get boosted to a larger group of users, and so on. So even if you literally have zero followers, there's a chance your video will go viral.
There's less competition for engagement as it's a new(ish) app
While TikTok has been around for 5 years now, brands are just starting to realize TikTok's marketing capabilities. The restaurant scene is no different - while it's pretty much a given a bar or restaurant will have an Instagram, or at the very least, a Facebook page, venues are slowly joining the TikTok gold rush. If you act now, this will be a huge advantage for you.
How to use TikTok to your advantage
1. Get a TikTok Business Account (it's free!)
A Business Account is a free and powerful feature that shows you in-depth data about your users and how to best curate your activity to get maximum engagement. With this feature, you'll be able to see data on trends and your audience behavior. You'll also get a content guide, which provides advice on anything from picking a sound to choosing a video topic. This is one of the first things you should do when making a TikTok account, as you'll be able to get user insights starting from the very first video you post. You'll get to understand critical metrics like who your audience is, what times they're most active on the app, and what content they enjoy the most. Upgrading your account is straightforward and only takes a few steps: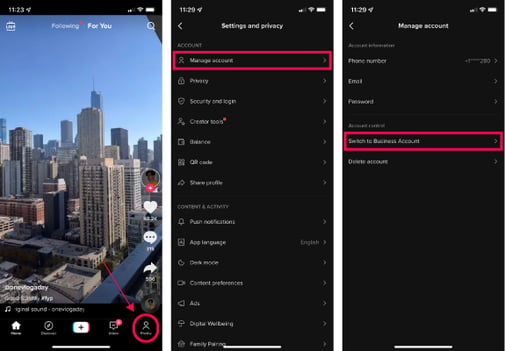 1. From the main page, tap Profile in the bottom right corner
2. Tap Manage account
3. Tap Switch to Business Account
4. Follow the setup process
5. That's it!
Now that you have a Business account, you'll be able to access the Analytics feature from the 'Settings and privacy' page, and can also put a bold, clickable link in your bio. Putting a link to your main website, menu, or ordering page is a smart strategy to convert your audience into customers.
2. Be yourself, but also follow the crowd
Unlike Instagram, which brands often use to show off a polished and refined look, TikTok is all about authenticity. Users are more engaged when videos are relatable and a little off-the-cuff. and original content to help you stand out from the rest. On the other hand...
Much of TikTok has a huge trend culture. Trends can emerge from just about anything on the app - sounds/songs, joke formats, video transitions, hashtags, and of course, dances. It's what fueled Abba's meteoric rise in popularity with Gen Z and turned average people into Netflix stars. So while your restaurant might not be the next Addison Rae or Swedish pop quartet of the culinary world, hopping on these trends is one of the easiest ways to increase your videos' engagement. So don't be afraid to follow the crowd!
How to discover new trends
• Google, Google, Google
• 'Sounds' section in TikTok's video editor
• Upgrade to a free Business Account and see what your followers are
listening to
• Follow top creators and see what trends they're doing
3. Post frequently
The For You page is individually catered for each user - no two For You pages are identical. It's fueled by Tiktok's complex algorithm, which shows users videos based on their geographical location and level of interest in certain videos. This is measured by how long a user watches a video, if they interact with it (liking, commenting on it, sending the video to other users).
Posting regularly is a sure fire way to keep popping up on people's For You page - it's recommended you post at least once a day to get consistent engagement, but it's also ok if you're only posting every couple of days. Posting consistently is easier said than done however. While timing is key, the content of your videos is equally as important. The most successful TikToks for restaurants are any combination of fun, visually appealing, educational, and entertaining. So what kind of videos should your establishment be posting?
Recipe videos
The Food segment on Tiktok, or #FoodTikTok, is a huge part of the app. Shots of well plated, delicious food and drinks are gold and guaranteed to increase your follower count. This is a great opportunity for your restaurant to showcase some of your best dishes. Show your chefs making a dish, or record the final product being served. If you have a bar program, have your bartender make a cocktail from your menu.
Series
A series of videos on a similar topic is a great way to post regularly. Your bar, for example, could do a 5 part series on how to make classic cocktails, with each part dedicated to a specific cocktail. Get some good clips of your bartender shaking, stirring, and serving. Post a series The slew of up coming holidays might be a source of inspiration for you - if you're redecorating for the holidays, you could create two videos, one to show your venue before decorating, and one for after.
4. Show what goes on behind the scenes at your bar/restaurant
Showing behind the scenes footage of your venue makes your account more relatable. Your bar is hopping on a Saturday night? Having a special event for holidays like Thanksgiving and Christmas? Record a video and post it to show what your viewers are missing out on. You could also introduce your audience to your staff, or take them on a tour of your kitchen.
5. Partner with micro-influencers
Again, the great thing about TikTok is that you don't need thousands of followers to go viral - you can depend on someone else with a huge following to get you the engagement you want. If you want to really tap into your local audience, figure out who's a micro-influencer foodie in your area and reach out to them for potential partnership. You could have them do a review of your restaurant, or have them highlight a specific dish on your menu.
A micro-influencer is someone who has anywhere from 1,000 to 100,000 followers, and are well known in their geographical location or area of expertise. A partnership with a local foodie in your area would be great. But, you might wonder, wouldn't partnering with a huge influencer with millions of followers get you more exposure? While that is true, micro-influencer marketing is the smarter and better way to go. How come?
As you know now TikTok's algorithm curates videos based on someone's interests and where they are located. According to Impact Plus, influencers with 1,000 followers "generated 85% higher engagement than those having 100,000 followers." As the number of followers goes up, engagement actually decreases. And it makes perfect sense - smaller accounts are able to connect with their followers on a deeper level because of their niche content. There's a greater sense of trust that users have in these micro-influencers, since they appear to be more accessible and relatable.
On another similar note, once you have 1,000 followers, you'll be able to host live events on TikTok. This might be good if you want to partner with a micro-influencer to play fun games or teach a class with. Lives are also useful if you want to livestream a special event going on at your restaurant.
TikTok actually has a Creator Marketplace where you can find food influencers to work with.
6. Get inspired!
Not sure how and what to create videos about? Search up other restaurants on TikTok. You can use the app's search feature, or a quick Google search will do the trick. See what works for these accounts and incorporate it into your own videos. Don't forget to keep it original and authentic though.
Take @Lowcountrychi for example. A seafood boil restaurant in Chicago with over 500,000 followers, this is a restaurant maximizing TikTok's marketing capabilities. In one of their most popular videos (left), Lowcountry is teaching their audience how to open snow crab legs, something that many people might not know how to do. They showcase their food and use humorous audio to keep their viewers watching. And it's clearly paying off - this video alone has 756,900 likes and 6.6 million views, and 12,900 shares. Is your restaurant next?
Crafting the perfect TikTok
You've meticulously edited your video down to the frame and chosen the perfect audio. You're ready to post, but wait - you'll need a good caption and group of hashtags first. While it isn't as important as the video itself, you need to always include them if you want more views and likes. Captions and hashtags are the garnish to a well executed video.
Use your words (but not too much)
TikTok is a mobile-first video platform, so that long essay caption that you've worked so hard on for Facebook and Instagram won't be effective here. Keep your captions short, sweet, and to the point, but add a little flair. To encourage engagement with your videos it might be helpful to ask a question, use a joke, or adding 'follow for part 2' or something similar at the end of your caption if you're doing a series.
Use the right hashtags
Pretty much on every social media app you use you'll probably see hashtags. First popularized on twitter as a way to group similar tweets under a common phrase, they've generally fallen out of use on sites like Twitter and Facebook. Not on TikTok, however - hashtags are still used in full force and are essential to getting your videos seen. The most popular hashtags have hundreds of millions, even billions of views! Hashtags will definitely increase user engagement with your videos, but use them wisely - make sure the hashtags you use in your caption are relevant, popular, and descriptive. Take some time to create a list of ones to have on deck so you don't have to waste any time trying to come up with any right before you're about to post a video. To continue with the example above, the restaurant Lowcountry might have this list handy:
#seafood #seafoodboil, #foodtiktok, #foodtok, #seafoodlover #cajunfood #cajunboil #lowcountrychi, #chicagobucketlist #chicagofoodies
If they were posting a recipe video on how to make their everything sauce, they might add #cajunrecipes #foodrecipe #recipetiktok
This is a pretty good list since it encompasses numerous topics: seafood, the Chicago food scene, Tiktok, and the restaurant's own name. It's a good idea to make a branded hashtag out of your restaurant name and use it in every video you post. Not only will it make your establishment more memorable, it will make it easier for users to not only view all the content that you've posted, but also what others have posted using the hashtag. Getting people to use your branded hashtag will be a huge advantage for you, especially if they have a lot of followers.
The clock is ticking
You've reached the end of this post! Hopefully by now you've learned how to set up a Business Account, how to post videos and what kind to post, and tips on getting higher engagement with your videos. TikTok is a powerful marketing tool and with the perfect mix of strategy, humor, and collaboration, your bar or restaurant is sure to thrive on the app and beyond.