When restaurants and bars reopen their doors, business will not resume as usual. The landscape has fundamentally changed, so the way we run our businesses has to change as well.
With most restaurants only allowed to operate at 50% capacity, you simply cannot continue to run your restaurant how you were pre-COVID-19.
If you don't make swift and immediate changes, you may have to shutter your doors for good. It's time to roll up your sleeves, crunch the numbers, and get a little creative.
How to Reduce Labor Costs
If your restaurant is suffering financially, then your staff is suffering with you. A restaurant is nothing without a strong staff, and if they aren't making money, they'll look for employment elsewhere. High employee turnover accounts for thousands in profit losses each year.
In short, you need to take care of your staff, or you can forget about successfully reopening your establishment.
It will be quite some time until restaurants can safely operate at full capacity, so you have to get creative with staffing in order for your employees to make a living. Operating with a much smaller, adequately trained staff is going to orient your business in the right direction.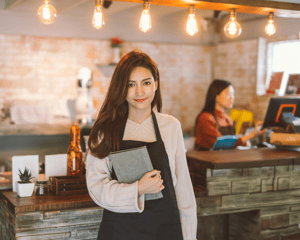 Train Your Staff to Take on Multiple Roles
While their job duties before COVID-19 may have been more narrow and specialized, you need to broaden the skill set of your returning staff.
You need servers that can be bartenders, managers that can be servers, and hosts that can act as servers or food runners.
Why is this important? Cross-training allows for more collaboration, better communication, and a more efficient workplace. Everyone on staff needs to be able to competently do multiple jobs.
Training your staff should be the number one priority before reopening; show your hosts how to enter orders into the POS system, or teach your servers how to prep batched cocktails.
Those in managerial roles will need to step up significantly, and take a more hands on approach with both FOH and BOH duties. This will allow you to schedule less hourly workers, and your managers can jump in as needed.
Lifting up your staff and encouraging them to help each other wherever possible, will allow you to staff less people on the floor (thereby cutting your labor costs), and give them the opportunity to make more money while restaurants operate at reduced capacity.
Keep in mind, working with a skeleton crew is a fine balance, and you don't want to spread your staff or managers too thin.
Make sure to keep their new roles within the realm of reason, and always have enough staff on hand so guests don't experience long wait times. It may take a little experimenting to find the right balance.
How to Reduce Your Food Costs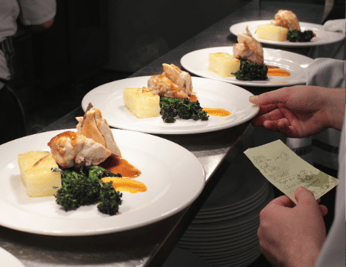 Once your staff is in order, you need to cut back on menu items that aren't performing well. A smaller menu, comprised of your highest selling items, will help you dig yourself out of this crisis. Maybe it's finally time to say goodbye to that dish with fifteen ingredients nobody is ordering, as it's sucking up valuable space in your inventory and eating at your profits.
You can figure out which items to cut by calculating your inventory usage rate. Usage rates will help you set your par levels for food and beverage, so you can mitigate losses from waste and over ordering. It will also help you see which items are doing well.
While trimming items altogether might be beneficial, you can also increase your revenue with a bit of healthy consolidation. Sometimes you don't need to cut items completely, but reduce the options you already have.
Consolidate Your Inventory
Before COVID-19, you may have had an extensive food menu, and a spirits list longer than the phone book; however, giving your guests an abundance of choice isn't always better. And given the current climate, it may be financially beneficial for your business to offer a limited selection.
Don't let this scare you. In fact, most customers are perfectly happy with a smaller selection, so long as you're offering high quality food and drinks.
For example, rather than offering twelve different types of vodka (and risking unsold inventory), it may be wise to reduce your offerings to one vodka. It will be easier to track the sales, you'll simplify your ordering, and you'll reduce your risk of over ordering on other vodkas that aren't selling.
Consider thinning your wine selection as well. Unless you're a fine dining restaurant known for having an extensive wine list, you can probably get away with having one Cabernet or one Chardonnay, as opposed to four or five different options for each.
Once opened, wine has a short shelf life, and unless you're selling it by the bottle, this is product you're pouring down the drain. Offer one high quality option for each, and save yourself the headache.
Evaluate Pour and Liquor Costs
Keep a close eye on your pour and liquor costs, as this is an area where most restaurants bleed a lot of money. It's important to regularly assess where you stand, and see where you can make changes to increase profits.
By using our liquor cost cheat sheet, you can see how quickly you pour through a product, and figure out which items aren't performing as well.
This cheat sheet includes a lot of useful formulas, from COGS, to gross margin, and menu pricing. Our cheat sheet will make your liquor audit easy, and give you an immediate plan of action.
Push Liquor Sales
Once you've trimmed and optimized your inventory, it's time to focus on where the money is.
Food and labor are the costliest aspects of running a restaurant. Their profit margins are quite thin, whereas alcohol has incredibly high profit margins. Essentially, high alcohol sales will be key to keeping your restaurant afloat.
Even when restaurants begin the slow process of reopening, your capacity is going to be drastically reduced, and many diners are still opting for take out options (as a result, there's less of an opportunity to sell them a drink).
Maximize your liquor profits by adding to-go batched cocktails on your takeout menu! It isn't enough to just offer beer and wine; create a few signature cocktails, and give your customers an experience they can't easily replicate at home.
Liquor sales have higher profit margins than beer or wine, so you'll be doing yourself a favor by offering lots of tasty cocktails your guests can take home.
We covered this in a previous blog, so be sure to read up on how batched cocktails can save you money, time, and boost your overall sales.
Change Your Hours of Operation
Given the circumstances, the times and days in which people will go out to eat is likely to change. Due to the reduced numbers of those dining in, it may be a wise choice to cut back your hours of operation.
If Mondays were already a slow business day for you before COVID-19, you may benefit by doing away with that day altogether. Consider opening later, and closing earlier, depending on when you see your highest spike in sales.
It may seem counterintuitive to reduce your hours, but if you are strategic about your hours of operation, it can save you a ton of money. You'll pay less in staffing and overhead costs, as well as reduce your energy consumption.
Key things to remember:
Keep your staff to minimum, and train them accordingly
Consolidate and optimize your inventory
Remove items from your menu that aren't top sellers
Increase liquor sales with to-go cocktail options
Consider reducing your hours of operation