The financial fallout from coronavirus has been steep and swift—but have we been levying the same concern with the environmental impact it has had as well?
With restaurants relying primarily on take-out and delivery orders, using sustainable to-go packaging is more important than ever.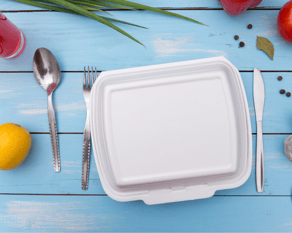 Yes, there were some short-term environmental benefits; carbon emissions were significantly reduced due to folks staying at home, and certain wildlife has been thriving without the threat of human interference.
However, the adverse effects of coronavirus have far outweighed any benefits. In a bid to keep our guests safe, restaurants have favored the ease and safety of plastic single-use items. Even states that had previously imposed strict restrictions began rolling them back temporarily to accommodate for heightened sanitation measures.
And although our priorities currently lie elsewhere (sustaining our businesses, our livelihoods, our health), how can we make room for sustainable to-go packaging?
Even in the era of COVID-19, it's possible to maintain safety while keeping sustainability in mind. And to mitigate any future harm, the service industry will have to make some smart changes going forward.
The Prevalence of Plastic in To-Go Packaging
Even if you're not necessarily concerned about the environment, you should still be worried about the amount of plastic we are using to transport and consume our food.
Plastics pose an immediate danger to humans. Plastics commonly used for food packaging and delivery contain harmful chemicals that can attach to your food (and when exposed to heat, the danger is even more ubiquitous).
Scientists are even finding trace amounts of plastic in the human body, raising concerns about our reliance on these handy (but harmful) packagings.
This is not limited to plastic, as all common to-go packaging poses its advantages and disadvantages; here are a few things to watch out for while considering what's best for you.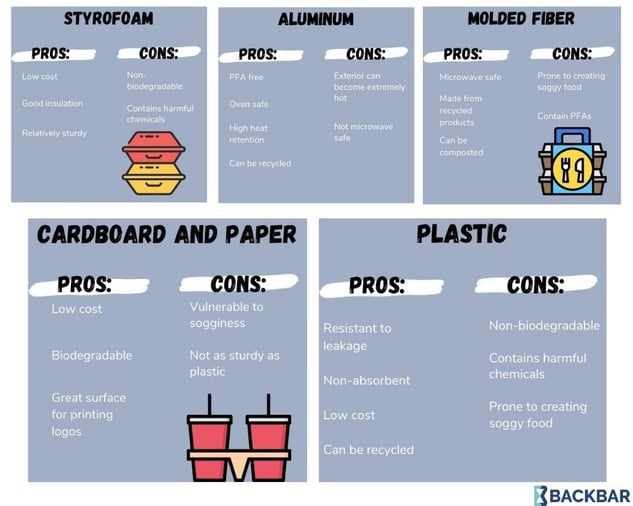 Re-Evaluate Your Delivery and Take Out Orders
Now that we've covered some of the basics, how can you make lasting changes? Here are a few ways you can limit your carbon footprint.
Make Silverware Available Only Upon Request
Most folks are happy to use their own cutlery if they're eating at home, and if you're mostly serving finger foods like burgers and fries, silverware isn't a necessity.
Some restaurants have begun to make silverware a request only item, rather than making it the norm. You can do this with straws as well (and as always, paper straws are preferred, and in some areas, they've become the default option).
Adding this extra step is going to save you money, and reduce unnecessary waste. A restaurant recently made the change, and they claimed it reduced utensil use by 88%. That's a lot of money you're saving, and it's better for the environment too.
You can also gently remind your guests to curb their usage, and only take what they need. This example below is a great way to reduce plastic consumption, and give your guests a good laugh.
Opt For Single-Use Items That Are Recyclable or Biodegradable
Eco-friendly and biodegradable cutlery is out there, and you can purchase a wide variety of it here. From chopsticks, to tongs, or flatware, you can find an option that is bound to appease your environmentally conscious guests for any occasion.
Although these items tend to be more expensive (and hence, not the most popular choice for cost-effective restaurants), spending a little extra money might actually help you retain the environmentally conscious consumer.
Guests are willing to pay more for a product that is marketed as environmentally friendly, so you can modestly raise your prices to accommodate for these changes.
Use Paper or Cardboard Wherever Possible
While some amount of plastic is bound to be used in our delivery and to-go orders (we're looking at you, plastic ramekins), you can try to cut back on it as much as possible.
Unless a guest asks for sauces on the side (and it's feasible to do so without compromising the integrity of the dish), save yourself the hassle of packaging everything separately and forego the plastic ramekins. If you must put sauces on the side, here are some biodegradable options to consider.
An easy change that almost anyone can do? Instead of using plastic bags, a paper bag (with your logo on it) is much more attractive to consumers, and better for the environment too.
As we mentioned, using cardboard or paper is better for you in a lot of ways—it's a great surface for printing logos and advertising your business, so it offers a perfect branding opportunity (whereas plastic doesn't).
Go Digital to Save Paper
As we've discussed countless times, QR codes are a big hit for a reason. They're easy, safe, cost-effective, and they eliminate the need to print paper menus.
Going digital wherever possible is going to save you a lot of time and money, so consider this along with your sustainable to-go packaging. Backbar has a free QR code generator to get you started.
Going Eco-Friendly Has Added Benefits for Bars and Restaurants
Your to-go packaging says a lot about you, and consumers are taking notice. Even with the added threat of COVID-19, guests want to do their business with companies that are aware of their impact on the environment.
In early 2020, The National Restaurant Association conducted a survey on industry trends. Among plant-based products and healthy meal options, can you guess what consumers are itching for? You guessed it: eco-friendly packaging.
Eco-friendly packaging came in at number one, beating out countless other options. Making environmentally friendly packaging choices, and being more mindful of your consumption, will help you attract and retain customers.
While coronavirus has added a lot of hurdles to maintain safety and sanitation, it is possible to do so with an environmentally friendly objective in mind.
Key Points to Remember:
Asking guests to opt-in for plastic cutlery will cut down on usage
Look for biodegradable options wherever possible
If necessary, raise your prices modestly to accommodate for safer packaging
Default to paper and cardboard to package your to-go items