When you order a drink at a bar, you probably have a pretty good idea of what glassware it's going to be served in.
We're used to seeing our martinis in delicate stemware, our tropical drinks in elaborate tiki glasses, and perfectly diluted manhattans strained into a chilled coupe.
Whether you realize it or not, the glass your drink is served in becomes synonymous with the cocktail—and without it, the experience can sometimes feel incomplete. It's even said that certain glassware influences the way you taste and enjoy a drink.
I mean, part of the fun of drinking a glass of red wine is swishing it around in a giant fishbowl, right? And nothing beats sipping a moscow mule from an ice cold copper mug.
So, what happens when all of that seemingly changes overnight?
How To-Go Cocktails Are Changing the Service Industry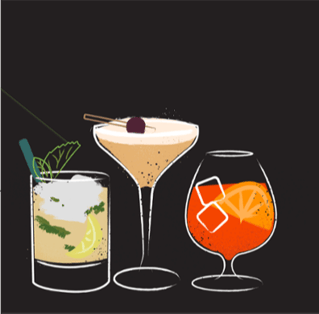 Covid-19 has upended the industry in so many ways, and one big change we don't consider as often is how our drinks are served and presented to us.
Bars that have previously taken so much pride in presentation have now been reduced to serving cocktails in plastic to-go cups, just to get by. It feels like a bit of a disservice to serve a great cocktail in such an inadequate vessel—but with the changes forced upon us by coronavirus, we have to make do.
After impassioned lobbying from bar and restaurant owners, many states and municipalities have passed new laws allowing to-go cocktails for the very first time (except for Bourbon Street in New Orleans, which has been enjoying this luxury since the 1980's).
And while serving cocktails in bottles may not always be ideal, to-go cocktails are an essential lifeline for the service industry. Liquor sales yield the highest profit margins, so being able to tack those on to a delivery or take out order is crucial for bars and restaurants.
And honestly, it's not all bad. In a lot of ways, bottling your cocktails is actually better for you and your guests. It's looking like to-go cocktails are here to stay.
Now that the dust has settled, bars and restaurants are getting a little creative with their to-go packaging. Aside from the standard plastic to-go cups, you may be seeing some interesting methods for getting your cocktail from point A to point B.

Canned Cocktails
As restaurants adapt to the new normal, some are pivoting to retail sales to keep themselves afloat (or just going full retail altogether). It's a smart business endeavor, and a great way to generate extra revenue.
If you fancy a Big Star margarita here in Chicago, you can certainly take one to-go after enjoying a meal on their patio—but now you can buy their drinks in grocery stores as well.
While these canned margaritas were in development long before the start of coronavirus, they could not have arrived at a better time.
Big Star margaritas can be purchased at Binny's and Foxtrot Market, as well as some Whole Foods locations.
Freeze Pops and Drink Pouches
What's my age again? So many bars and restaurants are opting to package their to-go cocktails in kitschy, kid-friendly packaging that I feel like I've been transported back to the 90's.
These options make for a great poolside option, and honestly, they're just fun (and couldn't we all use something a little fun nowadays?).
Reed's Local is selling their summer cocktails in pouches (yes, just like Capri Sun). All of their current offerings sound like the perfect summer cocktail; vodka lemonade, triple margarita, and a tropical concoction called "Killer Pinata," made with rum and fruit juices.
Funkenhausen is turning some of their cocktails into boozy freezer pops. At the moment, they're offering rootbeer and daiquiri flavors. We're excited to go out and try these.
Beer and Cocktail Slushies
While these aren't necessarily new inventions, boozy slushies are seeing renewed resurgence and an even greater demand as summer ramps up. And it's for good reason—they travel reasonably well, and they make for a fantastic to-go cocktail.
Parson's Chicken and Fish has been pumping out their frozen Negroni slushy long before coronavirus hit, but now you can take them home with you (which is honestly a dream). Don't worry about getting your hands cold; their custom koozies should do the trick.
Ina Mae Tavern has taken the frozen to-go cocktail to another level. They offer a rotating boozy slushy, and shaved ice sno balls. And don't worry about the kids feeling left out—the sno balls are non-alcoholic. You can add a shot though for $4.00 (do it quick while the kids aren't looking).
Beer slushies are beginning to gain some momentum as well. The beer slushy at Bungalow by Middle Brow comes highly recommended from one of our own here at Backbar, while Urban Belly (the self-proclaimed home of the frozen kirin) has its own trademark frozen beer slushy.
Jars, Bottles, and Everything In-Between
Jars and bottles are a great way to store almost any cocktail, but spirit forward drinks seem to do best in these containers (you probably wouldn't want to put your old fashioned or manhattan into a freeze pop).
These seem to be the most popular option, as their seeming simplicity actually allows for great branding opportunity. In an effort to spruce up their bottles, bars and restaurants are opting to add logos and stylish art to set their to-go cocktails apart.
At the very least, try to have fun with your packaging. You can certainly list the ingredients, but think about other ways you can connect with your guests—maybe add a blurb about the bartender that bottled the cocktail, or some fun facts about your restaurant.
The biggest thing missing right now is the experience of dining out or sitting at a bar, so try to offer that to your guests in any way you can.
Things to Consider for To-Go Cocktails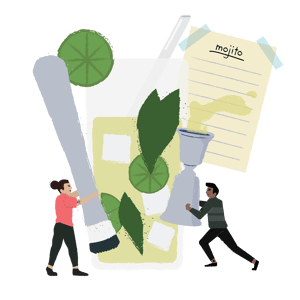 The innovation and creativity we are seeing from restaurants right now almost harkens back to the prohibition era, when speakeasies would put their booze in just about anything lying around—barrels, jars, car tires, even books.
But before you can bottle up a drink and send guests on their way, there's a lot of things you have to consider—dilution, longevity, and preparation. Certain cocktails (and their limitations) have informed how bars and restaurants bottle up their drinks. You'll need to take heed with perishable items like citrus cocktails and sparkling wines.
You also have to keep in mind the rules and regulations surrounding these to-go cocktails. These laws weren't passed without a lot of caveats.
Laws will vary by state, but here in Chicago, to-go cocktails must follow these guidelines:
Available for curbside pick up or delivery
Cocktails must be in sealed, tamper proof containers and cannot be opened until they reach their destination
Cocktails cannot be delivered by a third party service (Grubhub, Uber Eats, etc.)
Cocktails must be delivered by a restaurant employee, 21 or older
Cocktails should be placed in the trunk; not in the front seat where easily accessible
The age of the recipient must be verified upon delivery or pick up