The wine world is like the universe, vast and ever expanding. Its rich history is fascinating and the modern wine world is innovative and engaged in making the world a more equitable place. But what's to be expected in the immediate future for wine? Let's take a look at the wine trends we'll see in 2022.
Sparkling wine can't be corked
In the drinks world it seems like all good things bubble. It's not just hard seltzer that's growing. But sparkling wine, too. In 2020, the sparkling wine segment grew by 1.4% globally. And that was during a down year for wine sales.
Though the 2020 numbers were led by retail wine sales, not restaurant and on-premise consumption, we looked at Backbar on-premise inventory data and saw sparkling wine growing as segment in restaurants and bars using our platform.
Prosecco is making a splash
While Champagne blends are the most common sparkling wines, dominating the market share of sparkling wine inventory with 46% of inventory, Prosecco has been making significant gains, growing it's inventory market share by 4.7% from 2019 to through 2021.
With more consumers opting for lighter, effervescent drinks, expect prosecco and the sparkling segment to continue to gain traction in the wine space.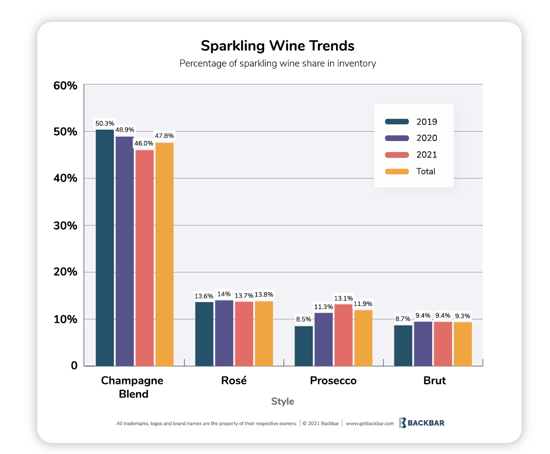 Climate change is altering the landscape of wine
Winemakers and drinks are already seeing the impact that climate change has had on the wine production. Wildfires in California have continually torched vineyards over the last few years. Even the vineyards spared from the blazes still feel the effects of the fires due to limited water supply from drought.
The grape yield in California is down again in 2021, with this year being the lowest yield in 9 years.
In France, the world's second largest wine producer and the largest exported, wine production was cut by nearly a third in 2021 due to poor weather conditions like spring frost and rain leading to mildew on grapes.
Costs will go up, resulting in smaller wine lists
In addition to climate change, current supply chain issues and inflation will impact wine trade with wine imports seeing price increases likely to be passed on to retailers and consumers.
Domestic wine producers in smaller regions can grow
The added costs of supply chain backups and inflation of imports creates a prime opportunity for lesser known wine producers and regions in the U.S. to make inroads into restaurants and menu listings.
Wine production in the states continues to grow and improve in outposts far from California and the Pacific Northwest. Wineries in Texas are producing fantastic wines that harken to Spanish grapes and the Rioja region like Tempranillo.
Upstate New York continues to produce excellent Rieslings that offer a dry perspective on the German wine.
Even lesser known regions in areas like Oregon can tap directly into the issues facing French imports. Like The Rocks District, recently featured in Food and Wine's 2021 wine issue, which produces grapes traditionally associated with France's Rhone Valley like Syrah.
Here are three regions to watch:
Oregon - The Rocks District: An opportunity for this lesser known region to promote its Syrah grapes that match the dark fruit and dryer GSM wines coming from southern France in the Rhône Valley.
California - Sta. Rita Hills - Lighter pinot noir like the Sta. Rita Hills Brewer-Clifton Pinot Noir
New York - Finger Lakes Region - The Riesling wines produced in this region are often on the dry-side of the riesling scale which is much better for pairing with meals in restaurants.
California is still king in U.S. wine market, but dropping market share
Despite 2022 being a year that is primed for regions outside of California to grow in popularity, California still dominates the U.S. wine market by a large margin. We looked at market share of inventory for restaurants and bars using Backbar and reign of California is apparent.
The top 4 wine producing regions in the U.S. are California, Washington, Oregon, and New York. California was the only state that saw growth of inventory market share from 2019 through 2020.
All of the 3 other states have had a strong 2021, bouncing back from a down year in 2020. Surprisingly, California is the only state in the top 4 that has lost market share in 2021, losing 2.4 share points so far this year.
This trend points to the regional growth across the U.S. that we mentioned in the previous section.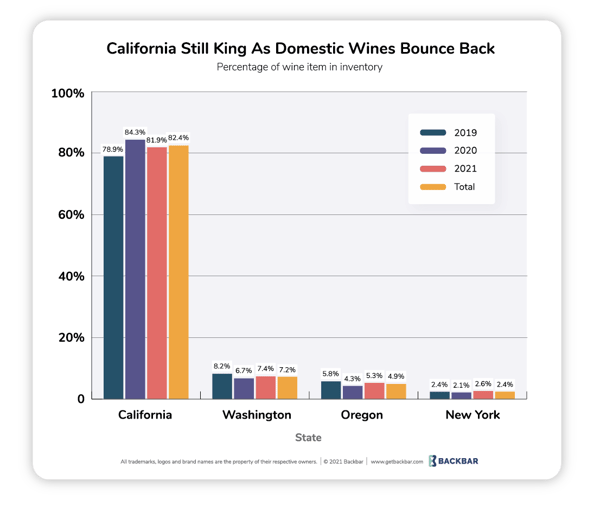 For more beverage trends in the restaurant industry check out our 2022 Beer Trends and 2022 Cocktail Trends.